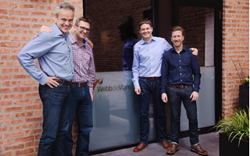 LOUISVILLE, Ky. (PRWEB) June 02, 2016
Sgsco, a global leader in package production and related marketing services, has acquired Webb deVlam, an international strategic brand design and innovation firm. The Webb deVlam studios in London, Chicago and Singapore – plus its sister innovation lab facility, R5, located in Chicago – are included in the acquisition.
For brands and retailers, the acquisition presents an opportunity to combine Webb deVlam's world-class upstream strategic thinking in the design of new products with sgsco's scalable and influential production platform to create cost efficiencies. In today's hyper-competitive business landscape, sgsco believes there is demand for strong strategic thinking, high-quality design, and a cost-effective production model.
"With the addition of Webb deVlam, sgsco now offers clients the industry's most complete end-to-end solution, from strategy and innovation to digital content management and social e-commerce distribution," said Aidan Tracey, CEO, sgsco. "The vision of sgsco is to bring together world-class people and service companies to meet the needs of leading brands and retailers. The addition of the Webb deVlam team is our latest step forward in solidifying our vision."
Through this acquisition, Webb deVlam employees will continue operating under the leadership of Ronald deVlam, President, Webb deVlam, who will report to Tracey.
"This is a monumental new day for Webb deVlam, our employees and our clients," said deVlam. "Today we have the unique opportunity to become part of something greater, while continuing to provide the kind of award-winning strategy, innovation and beautifully designed brand experiences we've delivered for the past 25 years."
Sgsco is building a formidable suite of integrated marketing services to help clients win at shelf and within a rapidly evolving digital marketplace – whenever and wherever consumer desire can be converted into action. The sgsco collective of companies now includes the following brands and expertise: SGS, global production engine; Webb deVlam, strategy and innovation; Marks, brand design; Traffik, integrated marketing; Armstrong-White, 3D-CGI; and Kwikee, digital content management and distribution.
About sgsco
Headquartered in Louisville, Kentucky, sgsco is a global leader in package production and related marketing services with a strong history as a provider of design-to-print graphic services. Comprising a collective of companies and people, sgsco offers many of the world's leading CPG, Pharma, Retail and Printing companies a full spectrum of innovative packaging solutions that streamline the capture, management, execution and distribution of graphics information in all channels. A strong global infrastructure, built around the SGS production engine, provides the opportunity for sgsco's 3,200 professionals to share worldwide learning, insights and understanding to create unique physical and digital solutions for all customers. To learn more, visit http://www.sgsco.com.
About Webb deVlam
With offices in London, Singapore and Chicago, Webb deVlam helps build brands with strategy, innovation, design and activation. Since 1992, Webb deVlam has been working with leading companies across multiple sectors including CPG, Technology and Health Care to create meaningful connections between consumers and iconic brands that deliver valuable results. To learn more, visit http://www.webbdevlam.com.