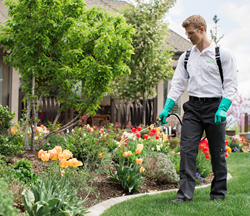 We're borderline fanatical when it comes to creating an environment and culture that fosters happy employees.
Chicago, IL (PRWEB) June 02, 2016
Michael Jordan is known as the greatest NBA player of all time. Whether its breaking multiple NBA records for shooting or stealing, or the six NBA championships under his belt, MJ has stood as a powerful example of hard work, determination, and greatness. As huge fans of MJ's career and work ethic, Aptive Environmental is proud to announce our newest location in Chicago, and three other Midwest cities including Minneapolis, St. Paul, and Milwaukee. Aptive Environmental is a new generation of exterminators providing environmentally responsible pest solutions with the goal to reduce potential health risks to humans and the environment.
Aptive Environmental is excited to expand into these Midwest markets offering Aptive's Four Seasons Protection Plan to keep homes and properties pest-free from spiders, cockroaches, ants, crickets, fleas, ticks, rodents and more. Aptive Environmental is on pace to provide pest solutions to more than 150,000 new customers in 2016. In May alone, Aptive has added more than 30,000+ new customers nationwide, and is on its way to becoming the fastest growing pest control service in North America.
Derrick Royce, Aptive's Chief Experience Officer, recognizes that putting employees first creates a positive company culture that instills passion in people. Royce is an evangelist for the company's core values and is solely focused on employee and customer happiness.
"We're borderline fanatical when it comes to creating an environment and culture that fosters happy employees. Whether it's our fun customer service trainings, incentives, core values, or company events, these elements give us a stronger sense of daily fulfilment and are consistent with our company mission. We're confident that happy employees lead to higher employee satisfaction, which ultimately leads to higher levels of customer service and customer loyalty. It's a win/win for everyone."
Aptive's Founder & Chairman, David Royce, echoed Derrick's comments saying, "We are focused on building a better company, not just a bigger one. We aim daily to create a culture that is conducive to happiness." Royce was recently recognized by Utah Business Magazine's Forty Under 40 Award, and named Ernst & Young's National Entrepreneur of the Year in 2015.
Be it the massive expansion of locations, or the quality of character Aptive Environmental aims to exude, Aptive's leaders are confident that opening these new service centers will be key to expanding their unique brand throughout the United States.
Aptive Environmental provides environmentally responsible residential and commercial pest solutions to more than 1,500 cities across North America. Aptive is an accredited member of the Better Business Bureau (BBB), and is a proud member of the Environmental Protection Agency's Environmental Stewardship Program. Aptive has also partnered with the United Nation's Foundation "Nothing But Nets" to help stop the spread of Malaria transmitted by mosquito bites. Aptive dedicates a portion of company profits annually to "Nothing But Nets" to help save the lives of millions in underdeveloped countries.