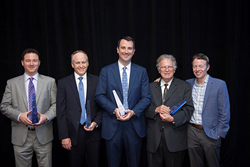 Herndon, VA (PRWEB) June 02, 2016
The Northern Virginia Technology Council (NVTC) announced the winners of the 20th Annual Greater Washington Technology CFO Awards last night at a ceremony held at The Ritz-Carlton, Tysons Corner in McLean, Va. The CFO Awards recognize local chief financial officers and financiers for outstanding achievement and excellence in promoting the area's technology community. In addition, John May of New Vantage Group was honored as the winner of the Michael G. Devine Hall of Fame award for his contributions to the national capital region's technology community during the course of his career.
The winners are as follows:
Private Company CFO of the Year: Kevin Boyce, Ellucian
As Ellucian's senior vice president, COO and CFO, Kevin Boyce is responsible for leading the company in operational excellence. He oversees the Global Services and Customer Success teams as well as Ellucian's global operations in finance, accounting, tax, treasury, legal and information technology. He also plays a senior role in its strategic growth initiatives. Boyce joined Ellucian in 2007 as CFO, and took on the additional role of COO in 2015. In 2010, NVTC named him Private Company CFO of the Year and in 2015 he was named a Trending 40: Top Tech CFO by Bisnow.
Public Company CFO of the Year: David Keffer, CSRA
David Keffer brings a diverse background of finance leadership roles in both private equity and publicly traded environments. Throughout his career, Keffer has served in various roles supporting corporate finance, accounting and growth. This experience has given him a comprehensive understanding and a 360 degree perspective on the financial elements required for an organization to succeed. Keffer joined SRA's financial planning and analysis team in 2003. He began his career at Navigant Consulting and Maden Tech Consulting.
Emerging Growth CFO of the Year: Pat McCoy, ScienceLogic
As head of finance and human resources for the past six years, Pat McCoy manages the challenges of ScienceLogic's fast-paced and exciting growth. Before coming to ScienceLogic, and with a finance background from Ernst & Young, McCoy served as CFO for three rapidly growing technology companies with successful exits, as they were ultimately acquired by larger entities. The first was Computer Logics, now part of Attachmate; second was IOtech, acquired by National Instruments in 2005; and Netcordia, where McCoy orchestrated its acquisition by Infoblox in 2010.
Financier of the Year: Harry Weller, NEA
Harry Weller leads NEA's east coast venture practice and is a founder of NEA's China organization. He is recognized as one of America's top venture capitalists and is an expert in residence at Harvard University. Weller's past investments include AddThis (acquired by Oracle), Cvent, Echo Global, Eloqua (acquired by Oracle), GlobalLogic (acquired by Apax), Groupon, Merlin Securities (acquired by Wells Fargo), OPower, Pentaho (acquired by Hitachi), Riverbed Technologies (acquired by Aether Systems), SolidFire (acquired by Net App), SourceFire (acquired by Cisco), Vertica (acquired by Hewlett Packard), Vonage and webMethods (acquired by Software AG).
Michael G. Devine Hall of Fame Award: John May – John May is the managing partner of New Vantage Group, a McLean, Va. firm that innovatively mobilizes private equity into early-stage companies and provides advisory services to both funds, private investors and entrepreneurs. May's experience in private equity capital over the last 25 years ranges from venture capital fund management to angel investing in the USA and angel ecosystem development abroad. He has been at the forefront of the angel investor movement. Currently, May is actively involved with cross-border angel investing and developing angel investment ecosystems in emerging markets. May firmly believes that angel investing can trigger success in high-growth companies that spur job creation and economic development around the world.
# # #
The Northern Virginia Technology Council (NVTC) is the membership and trade association for the technology community in Northern Virginia. As the largest technology council in the nation, NVTC serves about 1,000 companies from all sectors of the technology industry, as well as service providers, universities, foreign embassies, nonprofit organizations and governmental agencies. Through its member companies, NVTC represents about 300,000 employees in the region. NVTC is recognized as the nation's leader in providing its technology community with networking and educational events; specialized services and benefits; public policy advocacy; branding of its region as a major global technology center; initiatives in targeted business sectors and in the international, entrepreneurship, workforce and education arenas; the NVTC Foundation, a 501(c)(3) nonprofit charity that supports the NVTC Veterans Employment Initiative and other priorities within Virginia's technology community and The Entrepreneur Center @NVTC, which mentors new technology entrepreneurs. Visit NVTC at http://www.nvtc.org.