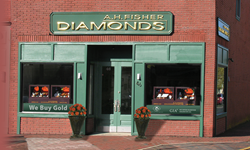 "The bottom line is that we have to keep in mind the overall importance of keeping up with the needs of our new generation of clients."
Red Bank, New Jersey (PRWEB) June 07, 2016
A.H. Fisher Diamonds has been a mainstay of Broad Street in Red Bank, New Jersey for 33 years. But that's all about the business that has remained the same. CEO Alan Fisher has made many changes to be responsive to the needs of his clients. Now that the children of his many repeat clients are seeking his products and services, Fisher needed to embrace technology more in order to communicate with his younger clients.
Meet Jennifer Hom, A.H. Fisher Diamonds' new director of marketing. She is a contemporary of these younger clients and a whiz at social media and inbound or content marketing. She'll be taking A.H. Fisher Diamonds' communications to another generation – communicating with millennials in the only way they've known – through technology.
This is a new foray into the front lines of a successful, well-established business for Jennifer, as well. She has spent over 12 years in market research and is well versed in inbound marketing, including social media, blogging, email campaigns and podcasting. She brings to the table a BS degree in business administration with a dual major in economics and finance and an MBA in finance, both earned at Monmouth University in New Jersey.
Fisher has over the past few years already seen how younger shoppers gravitate toward his millennial son, Matthew, who works with him, so he knew that he had to find a way to increase his online presence to attract the younger crowd. "It's obvious that Facebook and other social media are how people are communicating. To work, it requires constant updating, so we needed someone who could be dedicated to that," Fisher explained.
While Fisher still believes the face-to-face personal touch is what has made his business a success, he knows that it is now up to technology to get them into his showroom. "People are more technology savvy and shopping digitally. We're finding it more and more important to maintain our online presence in a variety of ways, and that requires dedicated time," Fisher said in explaining why he has added a director of marketing.
He said he didn't have to look far to find a perfect candidate for the job. Hom found out Fisher was looking for a social media marketing person while doing volunteer work for a nearby community restaurant. "I heard through a mutual friend and thought it sounded interesting, so I came in and things clicked," she said.
"Jen is a good fit for us - she grew up locally and attended high school in the area, college in the area and is very involved with local nonprofits in fundraising, marketing and more. I also grew up in the area, raised my family here and this community is very important to us, said Fisher."
In addition to being a first point of contact when you enter the showroom or call, Jennifer Hom will also contact you through Facebook, Twitter and a host of other social media, sending important information through email and keeping the website updated and guiding its redesign.
"We are now serving the children of the people we've served for 33 years. We know they are shopping differently so we now have the second generation of A.H. Fisher Diamonds catering to a second generation of clients. It's perfect," Fisher added. "The bottom line is that we have to keep in mind the overall importance of keeping up with the needs of our new generation of clients."
Keeping up with A.H. Fisher Diamonds to find exactly what you are looking for will now be simpler than ever. To receive the latest expert advice and information about buying that next important piece of jewelry, visit the website at http://www.ahfisher.com, like the Facebook page at [https://www.facebook.com/fisherdiamonds.claimlink/ and follow us on Twitter@AHFisherDiamond. The store can also be reached at 732-741-6262 and in person at 46 Broad Street, Red Bank, N.J.