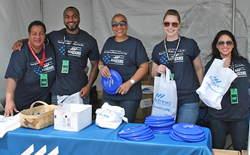 Suitland, Maryland (PRWEB) June 02, 2016
Andrews Federal Credit Union proudly served as a sponsor for the 2016 Joint Base McGuire-Dix-Lakehurst (JB MDL) 'Power in the Pines' Air Show. The show hosted approximately 375,000 people from throughout the tri-state area.
There were several dazzling aerial displays performed by the U.S. Air Force Thunderbirds, U.S. Army Golden Knights, Breitling Jet Team, GEICO Skytypers, and more. JB MDL is the nation's only tri-service joint base and is home to units from all five services. Each service was represented in this year's open house with more than 60 static displays for attendees to explore.
"We were honored to serve as a sponsor, and to share the benefits of credit union membership with all in attendance," said Oma George, Chief Retail Officer.
About Andrews Federal Credit Union
Andrews Federal Credit Union was founded in 1948 to serve the needs of military and civilian personnel by providing a vast array of financial products and services. With over $1 billion in assets, Andrews Federal has grown to serve more than 113,000 members in the District of Columbia, Joint Base Andrews (MD), Springfield, Virginia (VA), Joint Base McGuire-Dix-Lakehurst (NJ), and military installations in central Germany, Belgium, and the Netherlands. In addition, the Credit Union serves as a financial partner with many select employee groups in Maryland, the District of Columbia, and New Jersey.
To learn more about Andrews Federal Credit Union and its community involvement, or to become a member, call 800.487.5500 or visit http://www.andrewsfcu.org.