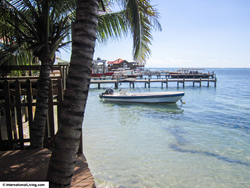 In heavenly escapes travelers adore and expats love, living on permanent vacation can cost less than an average retirement at home.
Baltimore, MD (PRWEB) June 06, 2016
There are a few special places on the planet—undeniable favorites with travelers, expats and retirees—that are so extraordinary, they are often described as being "heavenly" or "like paradise."
These places can be radically different from one another, but they all offer something special that seems to make them more than the sum of their parts. And they all offer that something special at remarkably affordable costs for those who've chosen them as retirement destinations.
Expats on the ground report that a couple can live well in any of them on a budget of $2,000 or even less. Considering the average retiree in the States spends $3,600 a month to fund an everyday retirement, those are significant savings, especially for an earthly Paradise.
Several of those "heavenly" destinations are highlighted in a recent International Living report.
Roatán: An Island Paradise in the Caribbean
At only 49-miles long and five-miles wide, Roatán has a rich and varied landscape. Its rugged topography is lush with deciduous trees and intoxicating tropical flowers. While the hills and valleys are adorned with leafy gumbo limbo, Honduran oak, acacias and sea-grape trees—as well as fruitful mango and apple-banana trees.
The world's second largest barrier reef—teeming with vibrant coral, neon-patterned fish, and sponges—hugs Roatán's dramatic coastline, making it a diver's paradise.
Most expats settle in one of four popular communities on Roatan. West Bay is the most chic, with its idyllic soft-sand beach and enticing beach bars and cafés. West End is the trendy diving village where young expats vacation and active retirees settle. It's a hub for water sports and nighttime entertainment. Expats who prefer a more solitary life pick the remote East End. They can live off grid and boat to town for supplies. Others prefer French Harbour, a popular town near the larger stores, businesses, and the island's only golf course.
Finding affordable rental options is easy. Couples renting long-term can expect to live on $2,000 a month, while those who own a home could do it for less. A mid-range dinner for two typically costs about $50 with drinks, while lunch could easily stay below $30 for two. Local beer at most bars will cost you $3, while cocktails are typically around $6.
Tamarindo: Pura Vida in a Costa Rican Beach Town
Located on Costa Rica's lush Nicoya peninsula, Tamarindo's spectacular, long, sandy beaches bring people from far and wide. The pura vida (pure life) lifestyle and culture is the stuff of legend…a laidback way of life that puts friends, family, and enjoyment at the top of the list every day.
Real estate options in Tamarindo offer a wide selection for comfortable beach living. It is still possible to buy a one- or two-bedroom condo within walking distance to the beach for less than $150,000. And the cost of living is reasonable—most expats find it possible to live comfortably on $2,000 or less per month.
And while Tamarindo has all the trappings of an exotic paradise, retirees still have access to grocery stores and medical services in a small downtown with plenty of modern services.
Koh Samui: A Heavenly Retirement in the Kingdom
For those thinking of retiring in Southeast Asia, it's difficult to beat the wide variety of spectacular locations in Thailand. With its excellent healthcare, modern infrastructure, and low cost of living, the Kingdom continues to be a draw for adventurous tourists and retirees. But Koh Samui, the second-largest island in Thailand, is at the top of the list of heavenly retirement destinations.
Although over one million tourists visit the island every year, the vast majority tend to frequent the more popular and over-developed resort city of Chaweng on the southeast coast. But the west side of Samui features tranquil villages and empty white-sand beaches.
The northeastern town of Bophut is one of the more popular expat areas on the island. It's a 20-minute drive to the nightlife of Chaweng but offers a laidback fishing-village atmosphere that retains its original Thai-Chinese heritage. Nearby club-warehouse and grocery stores, Makro and Tesco Lotus, provide a good selection of imported foods along with local brands.
A short distance further along the northern coast are rental houses for less than $600 per month in the small seaside village of Maenam. Expats report living expenses as low as a quarter of what they spent in the U.S.
There are more of these exotic destinations where retirees enjoy a heaven-on-earth lifestyle at significant savings. A complete overview can be found here: The World's Top 4 Heavenly Retirement Havens.
Editor's Note: Members of the media have permission to reproduce the article linked above once credit is given to InternationalLiving.com.
For information about InternationalLiving.com content republishing, source material or to book an interview with one of our experts, contact Associate Editor Carol Barron, 772-678-0287 (US), CBarron(at)InternationalLiving(dot)com or visit the Media Center.
For 36 years, InternationalLiving.com has been the leading authority for anyone looking for global retirement or relocation opportunities. Through its monthly magazine and related e-letters, extensive website, podcasts, online bookstore, and events held around the world, InternationalLiving.com provides information and services to help its readers live better, travel farther, have more fun, save more money, and find better business opportunities when they expand their world beyond their own shores. InternationalLiving.com has more than 200 correspondents traveling the globe, investigating the best opportunities for travel, retirement, real estate, and investment.