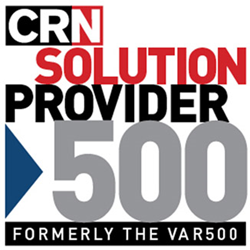 It is an honor to be recognized by the Channel Company for our success and innovation.
Chattanooga, Tennessee (PRWEB) June 06, 2016
InfoSystems, Inc., business technology company, announced today that CRN®, a brand of The Channel Company, has named the Chattanooga-based company to its 2016 Solution Provider 500 list. The SP500 list is CRN's annual ranking of the largest technology integrators, solution providers and IT consultants in North America by revenue.
The SP500 is CRN's predominant channel partner award list, serving as the industry standard for recognition of the most successful solution provider companies in the channel since 1995.
"It is an honor to be recognized by The Channel Company for our success and innovation," President and CEO Clay Hales said. "It's a good indication of how we rank in quality and how we compare to other technology solution providers in the industry."
"The 2016 Solution Provider 500 represent a total, combined revenue of over $334 billion—a testament to their success in keeping pace with the rapidly changing demands of today's IT market," said Robert Faletra, CEO, The Channel Company. "This prestigious list recognizes those companies with the highest revenue and serves as a valuable industry resource for vendors seeking out top solution providers to partner with. We congratulate each of the Solution Provider 500 companies and look forward to their continued success."
A sampling from the 2016 Solution Provider 500 list will be featured in the June issue of CRN Magazine and at http://www.CRN.com/sp500.