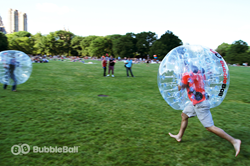 Richmond, Kentucky (PRWEB) June 08, 2016
Bubbleball Inc., the original and leading national provider of highest quality bubbleballs in the U.S., announces its arrival in Richmond by opening its doors to all of Kentucky - free delivery within 50 miles of their facility. What exactly is bubbleball? It's a whole slew of games; its most popular game so far being bubble soccer. Think regular soccer, except bubble soccer is a novice game played inside safe, giant, human air bags - known as bubbleballs. Fun for all ages, players run, jump, flip, bounce, and bump into each other in a wild attempt to score and knock each other down.
To raise awareness for the sport and the company's enthusiasm for community, Bluegrass BubbleBall will be participating in Cowbell Days in Stanford KY on June 18th and in the Boyle County Fair, June 13-18. Groups and individuals can book private reservations through C4 events.
"We're very happy to be partnering with Bluegrass BubbleBall, they are serious about having fun," says Mahdad Taheri, Founder and CEO of Bubbleball Inc.
"We are excited to be part of the BubbleBall family and to provide this great activity to Kentucky." says Keri Ledford, owner of Bluegrass BubbleBall.
C4 Events became involved with BubbleBall when looking for new activity options to provide their clients. So far, they have provided bubbleballs to several schools for project prom and project graduations, field days, private parties, county fairs and festivals such as the upcoming Cowbell Days and Boyle County Fair. They offer a discount to all active and retired first responders and military as well as free delivery within 50 miles of Richmond. In this way they hope to differentiate themselves from their competitors who frequently slip hidden costs into the mix.
Reserve to play bubbleball in Richmond, zombieball, bubble soccer and sumo smash for birthdays, team building events, bachelor parties or just for fun. Try out what it really means to be the ball at Cowbell Days in Stanford KY on June 18th and in the Boyle County Fair, June 13-18.
About Bluegrass BubbleBall
C4 Events is a full service event planning company. We bring in inflatables, tables, chairs, DJs, live music, catering etc. One call to us and we do the rest - including management the day of the event. C4 Events: Class with a Touch of Crazy!
About Bubbleball Inc.
Bubbleball Inc. ("BubbleBall") is the leading U.S. distributor of inflatable bubbleballs and associated products.