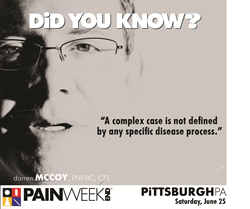 Montclair, NJ (PRWEB) June 08, 2016
PAINWeekEnd (PWE) Regional Conferences are now in their 6th year! PWE returns to Pittsburgh on June 25, at the Sheraton Pittsburgh at Station Square, 300 W. Station Square Drive. Legislation is now in place to require opioid education for Pennsylvania medical professions who prescribe opioids. PAINWeekEnd will provide busy clinicians and allied healthcare practitioners with relevant, practical instruction in the management of chronic pain.
The release of the new CDC Guidelines for Prescribing Opioids for Chronic Pain continues to engender debate among practitioners. Pain is a complex and fragmented area of clinical medicine, and the courses presented at PAINWeekEnd will touch upon these and other timely issues. 
The Pennsylvania State Board of Medicine relicensing period is every 2 years. By attending PAINWeekEnd Salt Lake City, participants can receive 6.0 CE/CME credit hours as they enhance their skills in medication risk evaluation and mitigation, pain assessment and diagnosis, and delivery of individualized multimodal treatment. Course topics include the complex pain patient; nonopioid analgesics: antidepressants, adjuvant therapies, and muscle relaxants; the diagnosis and management of centralized pain; cost containment; the obscurity of opioids, and a course entitled, "Been Everywhere, Done Everything: Patients Who Fail Standard Treatments." In addition, there will be commercially supported activities addressing a range of product, disease state, and medical information topics.
To see the complete agenda and more information about this or other PAINWeekEnd Regional Conference, go to painweekend.org.
The online registration fee for this PAINWeekEnd Conference is $129. PAINWeekEnd registrants are further offered the opportunity to register for the 2016 PAINWeek National Conference, September 6-10, in Las Vegas, for $129 off the current online published price.
PAINWeekEnd is provided by Global Education Group.