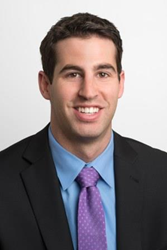 the "40 under 40" award is presented to 40 of the best and brightest professionals in Fairfield County under the age of 40 who have shown leadership and contributed to Fairfield County's business growth
Greenwich, CT (PRWEB) June 06, 2016
Attorney Stephen M. Napier, of Ivey, Barnum & O'Mara, LLC, has been named as a recipient of this year's Fairfield County "40 under 40" award by the Fairfield County Business Journal for his business leadership, professional success and commitment to the community. Each year, the "40 under 40" award is presented to 40 of the best and brightest professionals in Fairfield County under the age of 40 who have shown leadership and contributed to Fairfield County's business growth.
Mr. Napier practices in the areas of tax and estate planning, trust and estate administration and business succession planning. Mr. Napier regularly advises individuals, families and business owners on developing tax-efficient and practical wealth management strategies, including the preparation of wills, revocable living trusts, insurance trusts and business succession plans. He also helps guide fiduciaries and beneficiaries through the trust and estate settlement and administration process.
Active in community matters, Mr. Napier serves on the Board of Directors, Development Committee and as chair of the Young Professionals Group for Inspirica, a charity based out of Stamford, Connecticut, that focuses on breaking the cycle of homelessness in Fairfield County. He is also a member of the Greenwich Chamber of Commerce.
A native of Connecticut, Mr. Napier grew up in Orange, Connecticut, and currently resides in Stamford, Connecticut. Mr. Napier received his B.A., summa cum laude, in 2006, from the University of Connecticut, and his J.D., in 2009, from the University of Connecticut School of Law.
Mr. Napier and other winners will be honored at an awards ceremony on June 21, 2016, at Dolce Norwalk.
Ivey, Barnum & O'Mara, LLC is a general practice law firm which was established in Greenwich, CT in 1950. It is the largest Greenwich-based law firm, with additional offices in New Canaan, CT and New York City. The firm has more than thirty attorneys who handle a wide range of legal matters in areas such as Trusts & Estate Planning, Residential and Commercial Real Estate, Corporate, Employment, Litigation and Personal Injury.
Visit our websites at http://www.ibolaw.com and http://www.ibopersonalinjurylawyers.com