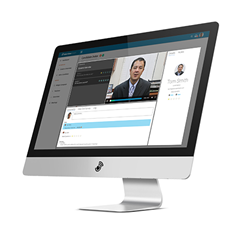 Waco, Texas (PRWEB) June 02, 2016
InterviewStream announces today the official launch of Hire, its all-new, re-engineered digital interviewing platform for corporate recruiters and staffing firms. The Hire digital interviewing platform streamlines job candidate screening and the interview process, saving recruiters time and money.
"The return on investment for video interviewing has definitely been validated by the market. But, it goes beyond simply making the process more efficient," says Justin Green, CEO of InterviewStream. "The best candidates are always in demand, and the Hire platform was designed with employer branding and the candidate experience in mind. With video and other multimedia capabilities, companies can now vividly and articulately communicate their culture and values to candidates to differentiate themselves from other employers. This not only helps companies find the best candidates, but attract the top candidates and finds the best cultural fit. That's what we're passionate about."
InterviewStream has also added a new twist to video interviewing. Recruiters using Hire can now use a variety of media types to ask questions, probing deeper into the candidate's actual skills and abilities to provide a better understanding of how candidates stack up. "And it's more engaging for the candidates," Green says. "The best candidates really have a strong desire to show companies what they can do, instead of merely talking about it. We let them."
The Hire platform takes advantage of the latest video streaming technology, has a global hosting presence, and was designed to be easily integrated into other HR technologies.
InterviewStream, the premier provider of digital interviewing technology, is dedicated to the success of more than 700 clients worldwide, helping recruiters enhance their employer brand, find the best talent, and streamline the interview process. As pioneers of the video interviewing space since 2003, we have perfected the technology and provide industry leading service and support that makes it easy for any organization to get started, find traction, and capture the efficiencies of technology in the talent acquisition space.