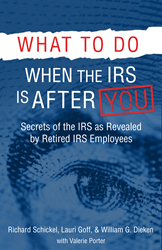 Tucson, AZ (PRWEB) June 07, 2016
For the first time ever, three newly retired IRS agents dare to share the secrets of how the IRS works, secrets that the IRS does not want you to know about its culture, its procedures and how they train their employees to think. A tax collector and two revenue agents with 101 years of combined IRS experience wrote this book - What to Do When the IRS is After You. This book shares information that the authors have already been sharing for years with family and friends who were in trouble with the IRS.
Using a combination of IRS knowledge, experience and wisdom they have written a comprehensive guide of step-by-step instructions in plain English to help a taxpayer decide how to deal with their IRS situation. The book gives advice on when a situation is bad enough to require a tax professional. This book will explain the powers the IRS actually has versus the rumors passed on through the years.
What to Do When the IRS is After You will guide the average layman through the forms, letters and procedures needed to successfully negotiate with the IRS.
This book explains the details of how the most reviled and hated agency in the U.S. Government operates.
The taxpaying public needs to know that the Internal Revenue Service auditors, revenue officers or revenue agents cannot arrest anyone. Without due process, no one will seize a car, a house; only those convicted criminally can be put in prison. The IRS never starts a case with a threatening phone call – the first contact is always a letter in the mail.
The IRS does not make telephone calls demanding money the same day or insist on payment with prepaid debit cards or bank wire transfers. The IRS does not threaten to send the police or sheriff out that day to seize a house or remove children.
What to Do When the IRS is After You explains, in plain English, how to:

Tell the "story" to the IRS so they understand the circumstances that led to a problem.
Get an installment agreement.
Have a case declared "currently not collectible" and pay nothing.
Successfully file an offer in compromise.
Win a case in appeals.
Learn how filing bankruptcy can make taxes go away.
Respond to an IRS criminal agent.
Avoid self-incrimination in tax audits.
Avoid making mistakes that can hurt a case.
Decide whether professional assistance is needed.
Get tax, penalties and interest removed.
Decide if an offer in compromise is the best course of action.
This book tells the average taxpayer how to resolve IRS problems and reclaim their lives. For the first time from retired IRS professionals, practical strategies of how to avoid wage and bank seizures, save a business, a job, a car, and a home will be revealed to average citizens. The authors want both everyday citizens and tax professionals to know that there is hope and a chance to be released from IRS fear and intimidation tactics.
What to Do When the IRS is After You is essential reading for anyone in trouble with the IRS. This insider's guide to the IRS should be on the bookshelf of anyone who files a U. S. tax return.