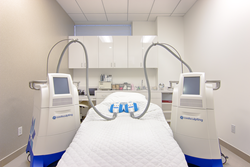 (PRWEB) June 06, 2016
Mirror Mirror Beauty Boutique is excited to announce that they are now the largest single CoolSculpting provider in Houston. Ranking as the top single provider in the nation's fourth largest city means that many hundreds of CoolSculpting appointments are made every month. This recognition takes streamlined teamwork and a continued dedication to providing the best CoolSculpting patient experience available to each and every client.
CoolSculpting uses Cryolipolysis to freeze away fat cells. Since the innovative technology was first discovered by Harvard scientists, CoolScultping has been approved by the Food and Drug Administration as a safe and effective method for reducing fat along the abdomen, flanks, thighs, arms, lower back, breasts and the chin. Each treatment takes 60 minutes, and can provide up to a 20% reduction in targeted fat.
Dr. Paul Vitenas, founder of Mirror Mirror Beauty Boutique, personally ensures his patients find a one-of-a-kind CoolSculpting experience in his upscale facility. Complimentary Wi-Fi and Netflix help patients pass the treatment time in style, and the private, spa-like atmosphere ensures the procedure is performed in comfort. Free, covered parking allows CoolSculpting patients to quickly get back to work or family life after treatment.
Unlike neighboring providers, Mirror Mirror offers patients DualSculpting, or two CoolSculpting machines, during the procedure. This means that each hour-long treatment can provide twice the aesthetic improvements. Both the arms, thighs, male breasts, double chin or 'love handles' can be addressed in one trip, saving patients valuable time and effort.
As the largest single CoolSculpting practice in Houston, Mirror Mirror employs an exceptionally trained staff, which includes three graduates of the prestigious CoolSculpting University. This California training center is run by the creators of CoolSculpting, and teaches providers the best techniques and skills for efficient, effective CoolSculpting results. No other practice in Houston can boast such an educated and experienced team of CoolSculpting experts.
With everything they do, Dr. Vitenas and his team emphasize the importance of patient education. Keeping with this goal, in April, Mirror Mirror Beauty Boutique recently released their eBook, CoolSculpting: Get Rid of Unwanted Fat Without Surgery. This publication gets patients started with their CoolSculpting Journey by explaining the procedure in detail, including the different CoolSculpting applicators and pricing.
CoolSculpting consultations are complimentary at Houston's Mirror Mirror Beauty Boutique. Contact the office at 281.810.9083 for more information or to schedule a first appointment. Download a PDF copy of Mirror Mirror's eBook, CoolSculpting: Get Rid of Unwanted Fat Without Surgery, or visit the Mirror Mirror website to get a free copy.
Mirror Mirror Beauty Boutique
4208 Richmond Avenue, Suite 100
Houston, Texas 77027
http://www.mirrormirrorhouston.com