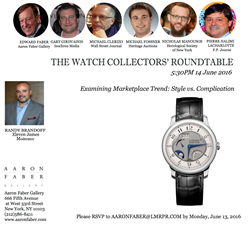 Are the days of obsessing over chronographs, perpetual calendars, retrogrades, minute repeaters and tourbillons giving way to a new era of the simpler, cleaner dial?
New York, NY (PRWEB) June 06, 2016
On Tuesday, June 14, 2016, at 5:30pm Aaron Faber Gallery's fourth annual Watch Collectors' Roundtable will reconvene panelists to investigate a new trend -- the rebirth of the elegant, dress timepiece and the demise of the complicated wristwatch. Are the days of obsessing over chronographs, perpetual calendars, retrogrades, minute repeaters and tourbillons giving way to a new era of the simpler, cleaner dial? And while the Apple watch didn't quite ravage fine timepiece sales as originally predicted, did the smartwatch's minimalist design pique interest of watch collectors to look beyond their modern Rolex watch?
Moderated by Randy Brandoff, Founder and CEO of Eleven James, watch industry insiders Michael Clerizo, "Off Duty" columnist for the Wall Street Journal; Edward Faber, co-owner of Aaron Faber Gallery, author of American Wristwatches: Five Decades of Style and Design and one of the foremost experts on Rolex watches; Gary Girdvainis, editor of WristWatch magazine and AboutTime magazine; Michael Fossner, Consignment Director for Timepieces at Heritage's New York; Pierre Halimi Lacharlotte, General Manager of Montres Journe America; and Nicholas Manousos, Vice President of Horological Society of New York will examine just what this new era of timepiece collectors want in their watches.
Watch collectors and aficionados are invited to attend the Roundtable and encouraged to bring questions for the experts. The event will be held at Aaron Faber Gallery, 666 Fifth Avenue at West 53rd Street, New York, NY. Those unable to attend the Roundtable will be able to watch the complete discussion online at http://watchstyles.lmrpr.com within a few days after the event.
2016 marks the fourth year of Aaron Faber Gallery's well-attended and well-regarded Watch Collectors' Roundtable. Scheduled annually in June around several high profile fine watch auctions at New York City-area auction houses, the Roundtable attracts a diverse audience of watch connoisseurs, enthusiasts and those just beginning their journey into fine timepiece collecting.
Past roundtables have addressed the potential impact of the smartwatches to the Swiss watch industry, why certain watches appreciate in value over time while others don't, and the history of grand complications. Video from previous roundtables may be viewed at https://www.youtube.com/user/TheLilianRajiAgency.
For more information or to RSVP for the Roundtable, please contact The Lilian Raji Agency at (646) 789-4427 ext 701 or aaronfaber(at)lmrpr(dot)com or visit the online press room at http://watchstyles.lmrpr.com.
About the Roundtable
Moderator:
Randy Brandoff
Randy Brandoff is the founder of Eleven James, an annual private membership club that reimagines how luxury timepieces are consumed and enjoyed. Members access a vast, curated collection of exceptional watches while enjoying a myriad of additional benefits.
As a well-respected entrepreneur in the luxury market, Brandoff started Eleven James in 2013 following his tenure as Chief Marketing Officer of NetJets, a Berkshire Hathaway company, where he served since the NetJets acquisition of Marquis Jet in 2010. As the first employee of Marquis Jet in 2001, Brandoff co-created the marketing and business development departments that drove $4 billion in sales and 80 percent customer retention, helping to grow the company to become the premiere private jet card company in the world.
Brandoff also helped to launch Tequila Avion, a leading spirits brand made popular by the HBO series "Entourage," where he was a co-founder and principal prior to the Company's sale to Pernod Ricard in 2014.
Panel:
Michael Clerizo
Michael Clerizo writes a monthly column on watches for Off-Duty, the weekend section of the Wall Street Journal. He is also a contributing editor at the Journal's monthly magazine, WSJ, and has contributed innumerable articles to watch magazines and websites.
Michael says he prefers writing for the Journal as opposed to the specialist media because rather than preach to the converted he wants to enlarge the congregation. He is the author of two books: Masters of Contemporary Watchmaking and George Daniels: A Master Watchmaker and His Art.
Edward Faber
Edward Faber is the author of American Wristwatches: Five Decades of Style and Design, now in its third printing and the definitive text on collecting American vintage watches. He founded Aaron Faber Gallery in 1974, now at 666 Fifth Avenue in New York City, as a showcase for artist-made jewelry for which the gallery is world-famous.
He began adding 20th century estate jewelry to complement the contemporary work and then, in 1980, Faber began collecting and presenting vintage watches and timepieces. Now this personal passion has grown into a formidable part of the gallery's design collection. In the "Best of New York", New York Magazine noted, "He's a picky curator with a critical eye, and his shop's 1000-or-so offerings range from incredible one-of-a-kind pieces to a huge stash of sought-after brands."
Faber is a founding member of the International Watch and Jewelry Guild, a member of the National Association of Watch and Clock Collectors and a member of the American Society of Jewelry Historians and Jewelers of America. He is a frequent lecturer on the history and value of timepieces and jewelry, with appearances on the Today show, as well as numerous cable programs; he has been featured in the Wall Street Journal, the New York Times, numerous watch magazines, the Cigar Aficionado and Departures and recently in blogs relating to the field of watch collecting. For more information, please visit http://www.aaronfaber.com.
Michael Fossner
Michael Fossner is the Consignment Director for Timepieces at Heritage's New York office. Michael is a Graduate Gemologist, an Accredited Jewelry Professional and the fifth-generation of a family in the watch industry.
Growing up, Michael learned the trade in his father's business, New York's J & P Timepieces, while attending trade shows with his family. He eventually became the company's website and sales manager, focusing on ecommerce sales of high-end timepieces. Michael also has degrees in International Business and Marketing from the Robert H. Smith School of Business at the University of Maryland in College Park.
Following his studies, he served as an apprentice for a major watch dealer in Switzerland. Michael has appeared as an appraiser on the Antiques Roadshow and is on the Board of Trustees of the Horological Society of New York.
Gary Girdvainis
Gary Girdvainis entered the watch industry in 1990 through a chance conversation with the owners of PMG Inc (publishers of several exotic automotive themed magazines and hardcover books) about their interests in importing and distributing into the US a new watch magazine. Girdvainis ran with the idea, and soon an independent North American edition known as International Wristwatch USA was born. Under Girdvainis' leadership, the magazine blossomed from an 80-page bi-monthly to the only monthly watch magazine with page counts upwards of 256 pages per issue. Having cemented its place into the hearts and minds of passionate watch aficionados, the magazine is now known simply as iW.
Girdvainis' two decades as Editor-In-Chief of the watch industry's most revered publication gave him an insider perch to deeply explore the heartbeat of many legendary watch brands. He has firsthand accounts of the meticulous steps brands took to regain respect for mechanical watches in the early 90s after decades of the "Japanese invasion" of quartz watches and has seen (and sometimes predicted) the rise and occasional fall of some of the world's finest watch companies. Girdvainis has jumped out of planes with Breitling's Jet Team; held on for dear life on the aft of Corum's Team Energy catamaran, and raced remote controlled sailboats in Central Park with Baume et Mercier. Through it all, he has gained the respect and admiration of movers and shakers within the watch world, and the loyal following of millions of watch fans.
In June 2011, Girdvainis left iW to form Isochron Media LLC, a company founded to embrace, enhance, promote and develop watch culture in North America and around the world. Through Isochron Media, Girdvainis publishes and editorially directs both WristWatch Magazine and AboutTime. His early success with these two publications has led to international licenses for both magazines, each scheduled for local market launches in Arabic and Chinese in January 2014. Isochron Media also serves as editorial consultant and advertising placement service provider for Wristwatch Annual. For more information, please visit http://www.isochronmedia.com.
Pierre Halimi Lacharlotte
Pierre Halimi Lacharlotte entered the watch industry in 1987 after a chance meeting with Vincent Calabrese, the iconoclastic watchmaker-philosopher known for his innovative movements. Calabrese would take Lacharlotte to an exclusive dinner, where watch industry luminaries François Paul Journe, Philippe Dufour, and Franck Muller surrounded him. This dinner would eventually lead to a business partnership between Lacharlotte and F.P. Journe.
Before becoming General Manager for Montres Journe America, however, Lacharlotte owned three retail stores in Palm Beach and Miami in 1987. He was one of the first retailers to launch Breitling, Franck Muller, FP Journe and Ikepod in the US.
In 1995, he became the US distributor for Bell & Ross, Dubey & Schaldenbrand, British Masters and FP Journe. In 2000, he began working with Technomarine to sell the brand's distribution contracts and focus on developing its worldwide operations and licenses. In working with Technomarine, Lacharlotte created a distribution center in all of North America for very high end timepieces. His success with Technomarine lead to Lacharlotte launching both De Witt and De Bethune in the US in 2004.
In addition to building distributor networks for these esteemed brands, Lacharlotte also served as consultant to Ashford.com, the biggest online retailer of watches. With his assistance, Ashford.com was able to buy Timezone.com, the highly popular online forum for watch enthusiasts worldwide, for $5,000,000 in cash and stock.
After decades of working together in an informal capacity, François Paul Journe and Lacharlotte formalized their relationship in 2009 with the opening of the brand's first boutique in New York City. Lacharlotte relinquished his distribution ties to other watch brands and focused his full efforts into developing F.P. Journe in the Americas and the Caribbean. He has since succeeded in making F.P. Journe one of the most coveted timepieces of true American watch connoisseurs.
Nicholas Manousos
Nicholas Manousos is a watchmaker based in New York City. A veteran of the Silicon Valley tech industry, Nicholas pursues watchmaking from an engineering perspective. In addition to his work as Technical Editor at HODINKEE, Nicholas is the Vice President of the Horological Society of New York.
About Aaron Faber Gallery
Aaron Faber Gallery was founded in 1974 to present the work of studio jewelers, those artists creating one-of-a-kind jewels that are inspired by creativity and originality, made in the artist's studio and imbued with the artist's spirit, concept and style. In 1980, the gallery began showcasing vintage watches and collectible timepieces, a category which has grown into a formidable part of the gallery's prominence.
The gallery, owned by Edward and Patricia Faber, is located on West 53rd Street down the block from the Museum of Modern Art, where its contemporary interior is the backdrop for changing exhibitions by studio jewelers as well as permanent collections by the gallery's artist group. For more information, please visit http://www.aaronfaber.com.