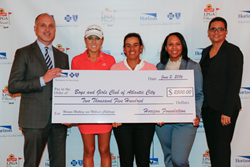 Horizon proudly supports the Boys & Girls Club of Atlantic City
Atlantic City, NJ (PRWEB) June 02, 2016
Before even the first stroke of the 2016 ShopRite LPGA Classic Presented by Acer, charity is already seeing a slice, thanks to two top LPGA golfers and Horizon Blue Cross Blue Shield of New Jersey (Horizon BCBSNJ). That's because Horizon BCBSNJ today announced a $2,500 gift to the Boys & Girls Club of Atlantic City, and more charitable contributions will follow after tourney play opens tomorrow as the two pros -- Natalie Gulbis and Candy Hannemann -- go spike-to-spike in the Horizon Healthy Steps Challenge.
The Health and Wellness sponsor of the ShopRite LPGA Presented by Acer, Horizon BCBSNJ uses the annual South Jersey event to increase public awareness of the importance of fitness and to join peer organizations in supporting local charities. During last year's event, Ms. Gulbis recorded 32,000 steps on her Fitbit during a Horizon step challenge, helping to personally raise $3,000 for the Boys & Girls Club of Atlantic City. For 2016, Ms Gulbis will again accept the Horizon Healthy Steps Challenge, but will be challenged herself by Ms. Hannemann. For the player who racks up the most steps on her Fitbit, Horizon BCBSNJ will contribute $1,000 for every 10,000 steps to the charity of her choice.
"Horizon proudly supports the Boys & Girls Club of Atlantic City, and we were thrilled last year when Natalie accepted our step challenge and helped us to more than double our donation to the club," said Jonathan R. Pearson, Director of Corporate Social Responsibility for Horizon BCBSNJ. "For 2016, we're excited about seeing a spirited step contest between Natalie and Candy as they compete this weekend against each other and the world's best lady golfers at
Stockton Seaview Hotel & Golf Club," he said.
During a check presentation ceremony in Atlantic City today, representatives for the Boys & Girls Club of Atlantic City accepted a ceremonial donation of $2,500 from Horizon BCBSNJ.
"Charitable donations make it possible for the Boys and Girls Club of Atlantic City to fulfill its mission of providing a safe place in the community where young people can learn and grow and develop to their full potential," said Dr. Michelle Carrera, Chief Executive Officer, Boys & Girls Clubs of Atlantic City.
Ms. Gulbis and Ms. Hannemann will start their fund-raising competition tomorrow, June 3, as golfers begin play for the ShopRite LPGA Classic Presented by Acer. The golfers will provide a summary of her steps and other commentary through updates on their twitter accounts, @natalie_gulbis and @candyhannemann, through the end of play on Sunday, June 5.
"The support our partners provide to this community is an important part of this event," said tournament director Leela Narang. "We're proud to collaborate with Horizon and assist them in their charitable efforts."
As the 2016 ShopRite LPGA Classic Presented by Acer gets underway, getting close to the action will be as easy and affordable for Horizon BCBSNJ members. On Friday, Saturday and Sunday, Horizon members will receive a free admission for two by showing their health insurance ID card at the Main Entrance Gate.
About Horizon Blue Cross Blue Shield of New Jersey
Horizon Blue Cross Blue Shield of New Jersey, the state's oldest and largest health insurer is a tax-paying, not-for-profit health service corporation, providing a wide array of medical, dental, and prescription insurance products and services. Horizon BCBSNJ is leading the transformation of health care in New Jersey by working with doctors and hospitals to deliver innovative, patient-centered programs that reward the quality, not quantity, of care patients receive. Learn more at http://www.HorizonBlue.com. Horizon BCBSNJ is an independent licensee of the Blue Cross and Blue Shield Association serving more than 3.8 million members.
About the ShopRite LPGA Classic Presented by Acer
The ShopRite LPGA Classic Presented by Acer is one of the largest and most prestigious events on the LPGA tour. It is held annually in Atlantic City and features the world's best female golfers competing over three rounds for a $1.5 million purse. The event, owned and operated by Eiger Marketing Group, is held on the Bay Course at prestigious Stockton Seaview Hotel and Golf Club. To date, the tournament is responsible for donating $29 million to local charities. The 2016 ShopRite LPGA Classic Presented by Acer will be held May 31 – June 5.
###