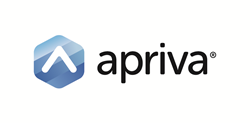 Startups to Dazzle Panel of Venture Capitalists in 60 Seconds for Spot at TechCrunch Disrupt.
Scottsdale, Arizona (PRWEB) June 07, 2016
Apriva, the leading provider of secure end-to-end wireless transaction and information solutions, today announced that it will be sponsoring TechCrunch Meetup and Pitch-Off events in Austin on June 14, 2016 and Seattle on June 16, 2016.
The TechCrunch Meetup and Pitch-off events will feature 10 startup companies currently in stealth or private beta. Each company will have 60 seconds to pitch their startup to a panel of notable venture capitalists and TechCrunch editors, with the first place winner receiving a table in Start Up Alley at the San Francisco TechCrunch Disrupt event. The Pitch-Off will be followed by a networking event for all sponsors, participants, judges and TechCrunch editors.
WHO: Apriva participants for the Austin and Seattle TechCrunch Meetup and Pitch-Offs will include: Stacey Finley Tappin, senior vice president of sales and marketing communications; Justin Passalaqua, director of sales; and Chris Yurko, sales executive, integration services.
Additional attendees of the events will include TechCrunch editorial staff, venture capitalists, investors, entrepreneurs and tech enthusiasts.
WHAT: TechCrunch Meetup and Pitch-off competition. Tickets to the Austin event can be purchased from the TechCrunch website here: http://techcrunch.com/event-info/meetup-pitch-off-austin-2016/. Tickets to the Seattle event can be purchased from the TechCrunch website here: http://techcrunch.com/event-info/meetup-pitch-off-seattle-2016/.
WHEN: The Austin event will be held June 14, 2016, at 6:00 p.m. Central Time (C.T.).
The Seattle event will be held June 16, 2016 at 6:00 p.m. Pacific Time (P.T.).
WHERE: The Austin event on June 14 will be held at Palm Door on Sixth – 508 E 6th Street, Austin, Texas 78701.
The Seattle event on June 16 will be held at ShowBox SoDo – 1700 1st Avenue South, Seattle, Washington 98134.
About Apriva
Formed in 2003, Apriva is the leading provider of end-to-end transactions and secure information messaging solutions that meet the exacting security and reliability requirements of financial services providers, government entities, and public service sectors. Through its two operating groups, Apriva Point of Sale (POS) and Apriva Information Security Systems (ISS), the company offers customers fully-managed, end-to-end, security solutions that incorporate hardware, software, network infrastructure and management tools. For more information, visit http://www.apriva.com.
Apriva Contacts:
Robin Rotz
Apriva
(480) 421-1275
rrotz(at)apriva(dot)com
Lisette Rauwendaal
McGrath Power
(408) 200-3773
lisetter(at)mcgrathpower(dot)com