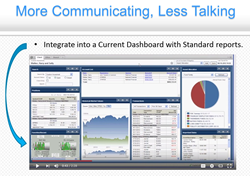 The software allows for easy portfolio comparisons, provides movement - capturing attention - and is very interactive.
MINNEAPOLIS, MINN. (PRWEB) June 07, 2016
Bank Insurance Securities Association recognized Trinlogix for its new patent and use of the patent to create motion 3D views of portfolios. The patent, issued in April of 2015, is for a method of displaying data in 3D. The creation of a tool to display equities and funds in motion 3D is the first use of the tool in the financial sector.
BISA's Technology Innovation Award highlights leadership in the advancement of the financial services industry's products, services and platforms through technology innovation. It is designed to recognize companies for their commitment to technology based solutions and advancements.
"We want to help Advisers present to clients with more clarity. The Motion 3D Portfolio View highlights the Advisers differentiation. It's a visualization that lets them easily differentiate themselves from the competition," said Ted Toso, CEO of Trinlogix.
A recent study showed that 72% of people prefer a motion view over traditional pie charts and other 2D graphics. The Trinlogix software is the only patented motion 3D product that provides such a view of data.
The Motion 3D Portfolio View is made up of a heat sensing map with columns (groups of equities) and spheres (individual equities). It allows for easy side by side comparison of portfolios, provides movement - capturing attention - and is very interactive.
The SaaS is a secure cloud based solution that can be utilized in the office or as a mobile app. The product can be purchased as a subscription for a single user or negotiated group rates. It can also be licensed, with the ability to port the product into a website or dashboard, allowing white label and branding opportunities.
"Trinlogix will continue to add features to the software," said Jason Spafford, Senior VP Sales and Development. "We are exploring ways to better visualize portfolios to not only assist Advisers, but also help compliance, for example, to more easily illustrate conflicts of interest."
Trinlogix has created a necessary tool for Advisers as they look for better ways to communicate with clients and differentiate themselves in a very visual way.
About Trinlogix, LLC
Trinlogix, based in Minneapolis, MN, is a software company serving the financial industry with its patented flagship software product that creates clarity via a Motion 3D Portfolio View. For more information about Trinlogix or its products contact Jason Spafford at Spafford(at)Trinlogix(dot)com.