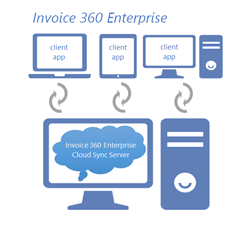 Self-hosted Invoice cloud on your Windows Desktop with Cloud Syncing apps!
(PRWEB) June 08, 2016
ConnectCode, a world leading provider of invoice software and apps, today announced the release of Invoice 360 Enterprise, an invoice system that consists of an extremely easy to use self-hosted invoice cloud server on the Windows Desktop and invoice client app (Universal Windows Platform) that syncs data with the server.
The easy to use self-hosted invoice cloud utilizes modern cloud syncing design and architecture, and provides many benefits such as business continuity over traditional systems. The client app runs uninterrupted even when the cloud server or network is not available. The client app automatically caches all the performed actions and stores the data locally while waiting for the server to be available so that a sync process can take place. This provides significant advantage to people on the go. A sales person can bring a device containing the invoice client app out of office to invoice a customer without worrying about connectivity. When he is back in office, he can sync the data on his device with the cloud server easily.
With a locally self-hosted server, business owners are assured that their data is stored on premise and do not have to worry about losing control of their sensitive business information. A self-hosted server also ensures that there is no subscription costs. Over time, many businesses have come to realize that a free cloud subscription for an invoice application from a third-party company is attractive in the beginning but worrying in the longer term. These businesses constantly worry about being charged a subscription fee in the future; whether they will be provided with reasonable service level; and whether they will be held hostage by third-party companies in case there is a dispute over costs or services provided. And most importantly whether their business information is well protected and not secretly shared with other companies by the third-party company offering the invoice application.
Invoice 360 Enterprise offers unmatched flexibility in the deployment of the cloud server. Besides providing a locally self-hosted Windows Desktop executable to business owners, Invoice 360 Enterprise also offers the source code of the cloud server on GitHub. Organizations with the necessary IT expertise, can choose to host the open source server on well-known cloud providers such as Azure by Microsoft with their personal cloud subscription, keeping their data confidential and away from the hands of third-party companies.
More information on Invoice 360 Enterprise open source cloud can be found at the following:
http://www.invoicesoftware360.com/invoiceapphistorycloudsync.html
Ever since the launch of Invoice 360, it has become one of the most popular invoice app on the Windows Store. Invoice 360 Enterprise is a huge step up from Invoice 360. It utilizes the same user interface, perfected over many iterations with feedbacks from many users over many years, on the client app as Invoice 360. Invoice 360 Enterprise allows users to design stunningly beautiful invoice templates and use the templates on invoices, quotes and estimates through a full-fledged WYSIWYG invoice template designer. An invoice template gallery with many invoice templates targeting many different industries is also available online.
Email
support(at)invoicesoftware360(dot)com
Website
http://www.invoicesoftware360.com
Invoice 360 Enterprise
http://www.invoicesoftware360.com/selfhostedinvoicecloudonwindowsdesktop.html
Invoice Template Designer (WYSIWYG)
http://www.invoicesoftware360.com/download.html
Windows Store Invoice 360 app (Standalone)
http://apps.microsoft.com/webpdp/app/invoice360/42e00678-0051-42d0-ac06-1a02b1676e9a
# # #
About ConnectCode Pte Ltd
ConnectCode is founded with the goal of providing comprehensive, high quality and cost-effective productivity tools and software. Our team consists of experienced personnel from both the sales operations and software industry. All our products are developed in-house and they are trusted and highly regarded by many organizations and companies around the world.
ConnectCode Pte Ltd
14 Robinson Road,
#13-00 Far East Finance Building
Singapore 048545