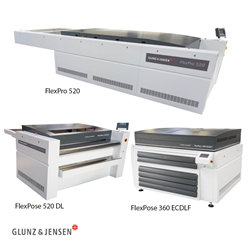 Rinsted, Denmark (PRWEB UK) 4 June 2016
Glunz & Jensen has revealed three new innovations that focus on increased automation to ensure user-friendly products. As the world's leading provider of state-of-the-art flexo platemaking products and solutions, the new products reflect the company's goal to drive automation through simple and cost-efficient technologies for the printing industry.
The products are now being presented at DRUPA 2016.
Less manpower, lower operating costs
The new innovations are part of Glunz & Jensen's strategy to develop fully automated, integrated systems that improve process optimisation and deliver more value to flexo platmaking workflows. All three products offer remote control, remote operation and remote analysis, combined with a new user-friendly graphic user interface that can be tablet-based.
The FlexPro 520 is a new generation flexo washout processor, based on the successful DW/XP series. It offers superior performance through automation, saving both time and waste. With automatic punch and pin bar release, it does not need manual pin bar handling or a separate plate punch. The FlexPro 520 boasts additional features including the unique patent pending Dual Chain™ plate transport system and a number of new features offering wider processing latitude. This processor brings more flexibility and productivity to batch and incremental flexo plate processing.
The FlexPose 520 DL is a drum-based, inline LED exposure unit. The unique exposure system is patent-pending, and the drum allows variable rotation speeds for customized exposure settings. The FlexPose 520 DL is offered as a stand-alone unit with automated plate load and unload, as well as an in-line version connected to a FlexPro processor for a fully automated work flow.
The FlexPose 360 ECDLF is a new generation of UV exposure units. A new patent pending exposure technology provides maximum UV-A output, along with superior repeatability in daily operation.
Reliability and simplicity
"The three new products are perfect examples of how we innovate not only to meet the industry's needs, but also to make our customers' lives easier with products that are simple to use," said Keld Thorsen, CEO at Glunz & Jensen. "We have invested heavily in product development over recent years, and we are excited to showcase the results at Drupa. Drupa is also a fantastic opportunity for us to meet our customers and demonstrate how our focus on automation makes our products stand out as being truly innovative and value-generating."
Glunz & Jensen invites anyone to find out more by contacting them directly or visiting stand 5C38 during Drupa 2016 in Düsseldorf, Germany, May 31 to June 10, 2016.