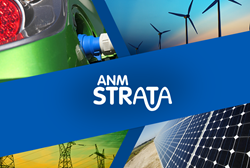 Integrate the largest DER capacity possible; more than 200% beyond the conventional technical limit.
(PRWEB UK) 3 June 2016
ANM Strata is a real-time foundational software control platform that enables utilities to maximize the benefits of distributed energy resources (DER). The second phase of the project demonstrated the role of ANM Strata in supporting additional network hosting capacity for renewable energy, by managing the grid in real-time, and the huge potential this creates for maximizing the value of renewable energy deployments.
The NREL INTEGRATE project leadership team was in attendance at the ANM demonstration. In addition, The Project Advisory Board, and representatives from several major utilities and DER developers were also there, including Con Edison, Avangrid (Iberdrola USA), Southern California Edison, NextEra, Simard SG, Renewable Energy Systems (RES), and Lawrence Berkeley National Laboratory.
Increasing Grid Hosting capacity by up to 200%
The demonstration used 'power hardware in the loop' to show how a smart campus, with a large amount of DER, would be able to integrate the largest DER capacity possible; more than 200% beyond the conventional technical limit, beyond which traditional grid reinforcements would have been required. By utilizing the facilities available at NREL, including the research electrical distribution bus (REDB) and real-time network simulator, SGS Inc. successfully demonstrated how ANM Strata significantly increases clean energy hosting capacity by actively managing (in this case) solar PV, battery energy storage, electric vehicle charging, and campus controllable load.
ANM Strata Cuts Project Capital Costs and Shortens Project Timelines
The demonstration also revealed ANM Strata's capability to manage DER interconnection, in real-time, for reverse power flow, demand response, and voltage constraint management. This type of ANM-controlled, managed interconnection has been proven to vastly cut project capital costs for developers and to shorten project deployment timelines, creating tremendous additional value for both the campus and the utility.
Eben Perkins, the representative from Avangrid Networks said, "ANM is an innovative technology to solve the challenges of grid interconnection for distributed generation and to open up the grid to more renewable generation development. Through NREL's work and our current demonstration efforts with SGS Inc., as part of New York's Reforming the Energy Vision (REV), we look forward to advancing ANM offerings for our customers to support the continued growth of clean energy."
Dr. Bob Currie, CTO at SGS Inc. said "We are thankful for NREL's support and partnership on this project, which has provided us with an unparalleled opportunity to demonstrate the full potential of our ANM Strata platform, with the physical devices and real-time simulation environments at ESIF. Our advisory board got to witness our technology delivering a range of DER integration use cases, consider the tangible benefits it can bring to utilities and the developer community, and to discuss the opportunities for the industry to accelerate the adoption of real-time DER management for increased grid hosting capacity – all in the surroundings of the world class facilities at NREL."
About SGS Inc.
SGS Inc. delivers products and consultancy services that enable Distribution Utilities and developers to integrate Distributed Energy Resources (DER). The company provides world-leading Active Network Management products, planning tools and a range of consultancy services, and is the only provider to uniquely combine real-time, autonomous and deterministic control into its Active Network Management solutions. Its products are transforming the utilization and resilience of the grid, and managing connected customers at greatly reduced cost, without compromising safety and security. It supports customers worldwide from its offices in New York, London and Glasgow.