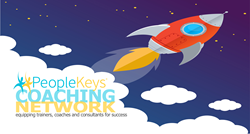 Boardman, Ohio (PRWEB) June 07, 2016
PeopleKeys, an internationally-recognized leader in the field of DISC testing and behavioral analysis, today announced their plans to host a new webinar series focused on the growing field of coaching. The PeopleKeys Coaching Network webinar series will include seven installments, each providing an in-depth look at topics of interest to current and future coaches. The goal of the webinar series is to help coaches and consultants:

Learn new ways of approaching their work with clients
Incorporate behavioral analysis tools into their practice
Keep current with new coaching strategies, products, and methodologies
The first installment of the webinar series, "PeopleKeys 101," will air on June 10th at 11am EST. The hour-long webinar will provide an introduction to the strategic role PeopleKeys can play in helping coaches build a thriving practice. The webinar will discuss how to use the PeopleKeys online portal to its full potential.
From there, the remaining hour-long webinar topics include:
July 22, 2016: What Should I Charge My Clients?
How to price coaching services, including personality reports, with confidence.
August 12, 2016: "The Workshop" Workshop
How to conduct a DISC workshop with clients.
Sept 16, 2016: Dealing with C-Level Clients
How to engage high-ranking executive clients.
Oct 14, 2016: Effective Talent Management
Learn strategies for using PeopleKeys products and tools such as The D3 Report (DISC, Teams, and Values) and benchmarking.
Nov 18, 2016: DISC for Coaching Teams
A presentation tailored for coaches and consultants working with teams.
Dec 9, 2016: Getting Personal
A look at the personal side of DISC from PeopleKeys, including how to incorporate PeopleKeys books into a coaching business.
Kaitlyn Miller, the Marketing Manager for PeopleKeys, said of the new webinar series, "We're so excited about the PeopleKeys Coaching Network webinars. Focusing an entire series of online trainings on the field of coaching was something we've been wanting to do for a long time now. With the demand for coaches and trainers growing every single day, we have always been focused on the evolution of the field. Over 2000 coaches join the International Coaching Federation every year, and in the last 15 years, the number of practicing coaches has grown 20 fold. Coaches and trainers that use PeopleKeys DISC products in their business have an edge over the competition, and a way of distinguishing themselves apart from others in the field. We're so excited to share what we know, and to show new audiences what we've learned in over 30 years of studying behavioral analysis can be applied to coaching."
Registration for the PeopleKeys Coaching Network webinars is free. Participants can sign up for the entire series, or for just specific installments of their choice. All of the webinars will air live at 11am EST on their scheduled dates, and will be available on demand the day after broadcast.
For more information about PeopleKeys, DISC, their personality testing and behavioral analysis tools, or to register for any of the PeopleKeys Coaching Network webinars, visit peoplekeys.com.
About PeopleKeys
PeopleKeys has been providing tools to measure the connection between personality and human behavior for over 30 years. PeopleKeys believes that an understanding of human behavior can be used to create effective leaders, improve relationships, streamline productivity, resolve conflict, and reduce stress. Their DISC personality tests and behavioral analysis tools have been translated into over a dozen different languages, and are sold around the world. For more information about PeopleKeys and their DISC solutions, please contact Marketing Manager Kaitlyn Miller at 330-599-5580 x113.