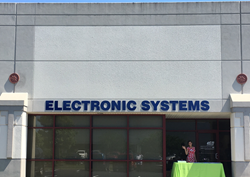 According to Chapman, "All of our teams have a huge investment in their communities. It's important to us that we sourced renovation efforts locally and our local partners have really done a wonderful job."
Richmond, Va (PRWEB) June 07, 2016
Electronic Systems, Inc. (ESI), a premier provider of customized and scalable information and document technology solutions, announces their Richmond Open House to celebrate the renovation of the Richmond office on June 7th. In 1980, Bill Kamarek founded, incorporated and established ESI upon a core set of customer-centric values. Bill, along with Tim McCulloch, opened the Richmond office in1983. ESI is today the largest provider of customized, scalable, end-to-end information and document technology solutions in the Mid-Atlantic region.
"We expanded a functional Richmond facility into an expansive, highly professional and collaborative environment. We're thankful to our property management, Thalhimer, for investing in our facilities," said Joyce Chapman, ESI's Director of Facilities. "ESI has been in Richmond for over 30 years and we're thrilled to be continuing to grow and support our clients in bigger and better ways."
The Richmond renovation included a full scale interior update, including refreshed design components, completely updated flooring, and a new collaboration room. Over 7,000 square feet of warehouse space has been added to the existing warehouse, vastly expanding the offerings kept on hand and improving turnaround time for central and northern Virginia clients. The large renovation invested heavily in locally sourced contractors supporting small Richmond businesses.
According to Chapman, "All of our teams have a huge investment in their communities. It's important to us that we sourced renovation efforts locally and our local partners have really done a wonderful job. The Open House on June 7th will really highlight their work as well as the offerings of ESI."