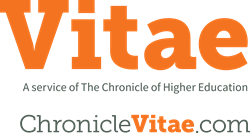 Washington, DC (PRWEB) June 06, 2016
College and university leaders and human resource professionals can now access a versatile new search tool for finding top job candidates from Vitae, a service of The Chronicle of Higher Education.
Vitae is the largest higher education-only talent community, and now Vitae Recruiter gives recruiters access to that talent.
"Our research showed no one was serving the unique career and community needs of higher education professionals," said Tim Froemling, Senior Director of Innovation for The Chronicle. "We talked to hundreds of faculty, staff and administrators and created Vitae to help them achieve their career goals."
For the nearly 800,000 faculty and administrative staff who make up its growing membership, Vitae offers career management tools, career advice and insights, job opportunities, and a thriving online community.
Vitae Recruiter allows human resource professionals, academic officers, and others who are searching for higher education job candidates to easily access Vitae members' profiles, which contain education, experience, bodies of professional work, and much more. Built with hiring needs in mind, Vitae Recruiter includes:

Deep searches based on 17 different advanced fields, designed specifically for higher education. For instance, a taxonomy of academic disciplines—often a pain point for recruiters—has been carefully developed by experts with feedback from Vitae members.
Instant access to candidates' dynamic profile information, and unlimited messages to those candidates.
A feature allowing adjunct professors to indicate their teaching availability, so that academic departments can connect them with teaching opportunities quickly and easily.
Unlimited saved searches with specific criteria, and the ability to share top candidates among the hiring team.
"Vitae Recruiter gives colleges and universities the tools to discover and actively pursue the most qualified candidates that fulfill their campus needs, whether they're from far across the country or next door," said Chronicle Publisher Mireille Grangenois. "It's a game-changer for institutions that have struggled to expand and strengthen their talent networks."
"The most important part of Vitae Recruiter is that it creatively harnesses technology to solve an ongoing problem," said Chronicle Chief Technology Officer Don Sargent. "Vitae Recruiter represents exactly what our audiences need and want, and does it with a seamless, powerful user interaction."
A small group of universities beta-tested Vitae Recruiter last fall, and based on their experiences, The Chronicle is making it more widely available now. Interested human resource professionals, academic administrators, and others looking to connect directly with an engaged audience of higher education professionals can click here for more information.
###
Vitae, a service of The Chronicle of Higher Education, gives higher education professionals access to free resources and advice so they can network, collaborate and grow in their careers.
The Chronicle of Higher Education, Inc. is the leading source of news, data, and jobs for the higher education and nonprofit communities. The Chronicle of Higher Education, the company's flagship publication, has more than 270,000 print and digital readers weekly, and reaches 2.1 million college and university faculty members and administrators online every month.