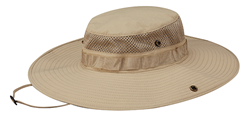 Summerweight performance starts with Propper's durable ultra-lightweight fabric that wicks moisture away from the body keeping you cool, dry and comfortable
St. Charles, MO (PRWEB) June 07, 2016
Propper adds to its extensive line of summerweight apparel with the release of a wide-brimmed, summerweight boonie. A new standard in warm-weather head protection with an ultra-light ripstop fabric rated to UPF 50 and 360° mesh sides, the Propper Summerweight Wide Brim Boonie provides all-day sun protection. Colors include olive, khaki, LAPD navy and black.
For hot days on the job or at the range, look no further than Propper's summerweight lineup to stay cool. Summerweight performance starts with Propper's durable ultra-lightweight fabric that wicks moisture away from the body keeping you cool, dry and comfortable. UPF 50 offers all-day sun protection. This lineup includes Tactical Pants, Shorts, Long Sleeve Shirts and Short Sleeve Shirts. Watch the video and learn more at propper.com.
Another lightweight boonie option is Propper's Tactical Boonie released at SHOT Show 2016. This classic style hat is built using the same fabric as their lightweight Tactical Pant for a perfect match. The boonie hat was introduced to the U.S. military during the Vietnam War. In 1967, the U.S. Army began issuing boonie hats, as the "Hat, Jungle, with Insect Net" – it has been popular even since.
If a boonie isn't your style, Propper has also released a new 6 Panel Contractor Cap. Made from the same durable material as Propper's uniforms with loop fields on front, top and back for customization. It looks great with the addition of your favorite morale patches or run it plain for a low-profile look. Available in seven different colors including MultiCam®.
Shop and learn more at propper.com.
About Propper
Making tactical gear with a purpose has been a way of life for Propper, since their U.S. Navy contract in 1967. Today, Propper designs and manufactures tactical clothing and gear that keeps military, law enforcement, and public safety professionals protected whether they're in the service, on the job, or off for the weekend.