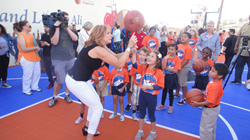 Youth sports is amazing. You can be whatever you want to be. You can turn this love of sport into a life changer.
HERMOSA BEACH, CALIF. (PRWEB) June 03, 2016
Always wanting to give back to today's youth and to the game in which she's spent a lifetime, basketball Hall of Famer and pioneer Nancy Lieberman agreed to become a part of the Steel Sports Advisory Board along with other prominent figures in the sports world.
These former athletes and coaches act as Steel Sports ambassadors, promoting the company's mission of transforming the existing youth sports culture to help create an environment where athletes compete at a high level while learning life lessons.
Steel Sports CEO David Shapiro recently sat down with Lieberman for an exclusive interview about her love of sports growing up, playing with the boys, proving her doubters wrong, coaching and parenting, and why she wanted to add the Steel Sports endeavor to an already busy schedule.
---
Trailblazer. Tomboy. Competitor. Tough. Inspirational. Name the adjective, and it's probably been attached to Nancy Lieberman at some point during her athletic career.
The Naismith Memorial Basketball Hall of Famer has spent her life breaking barriers and proving doubters wrong whether it was becoming the first woman to play in a men's professional basketball league, coming back to play in the Women's National Basketball Association as a 50-year-old, or becoming an assistant coach in the NBA.
Growing up in New York in the 60s and 70s, females didn't have the opportunities to play organized sports like males did. Lieberman did whatever she could to play sports and sometimes that meant taking the train to play at famous Rucker Park without her mom knowing, playing tackle football and piling in her AAU coach's Toyota to go to basketball tournaments.
"What I knew was that I loved sports, and it made me feel good about myself," Lieberman said. "Everybody has their own story, but when the guys in the schoolyards were like, 'OK, we'll take the girl' that was like saying you like me, you believe in me. That had a psychological effect on me because I went home confident. My shoulders were back, my head was up and my chest was out because I felt good about myself. It taught me winning and losing. It taught me so much about what I wanted to do, and if I lost why did I lose and how can I get better?"
Whether it was on the basketball court, baseball field, playgrounds or streets, Lieberman was constantly playing with and against kids of different sex, age and race. She learned on her own at a young age that none of those things mattered when it came to competing and winning together as a team.
Muhammad Ali was Lieberman's hero growing up and is an inspiration to her still today, and he once told her, "Respect everybody, but fear nobody." She continues to live with that mantra, but it's an attitude she has exhibited toward others since she was a young girl.
Lieberman went on to play collegiate basketball at Old Dominion University in the late 70s where she earned the nickname "Lady Magic," a nod to Los Angeles Lakers great Earvin "Magic" Johnson. She was the first to win two Wade Trophies as the national women's college basketball player of the year, won back-to-back national championships with the Monarchs in 1979 and 80 and she set a school record for career assists (961) that still stands today.
After college and attempts to play professionally with women's leagues that didn't last, Lieberman joined the United States Basketball League and became the first woman to play in a men's professional basketball league. While that was certainly newsworthy in 1986, women continue to see more opportunities in sports, especially coaching.
Becky Hammon became the first female full-time assistant coach in the NBA when she joined the San Antonio Spurs in 2014. Lieberman joined Hammon in the NBA coaching ranks in 2015 with the Sacramento Kings, and before that in 2009 she became the first woman to coach a men's professional team when she was head coach of the NBA Development League's Texas Legends.
"Change is in front of us, and we must embrace it because it's not going away," Lieberman said. "There's not going to be less women running for president, there's not going to be less women CEOs in America, or coaches. It's going to grow because the door has become open to that possibility."
As an assistant coach in the NBA and the mother of a Division I basketball player, Lieberman has also seen her share of changes in coaching and parenting. Athletes want to communicate through their phones, whether it's texting or social media, so she will occasionally coach her players up on Instagram or Snapchat with a clip and some humor to drive home her point instead of using a five-page scouting report.
Her son, T.J. Cline, just finished up his junior season at the University of Richmond, and the Spiders forward was named to the All-Atlantic 10 Third Team. At 6-feet-9-inches, Cline was a multi-sport athlete, and Lieberman never pushed him to focus strictly on basketball. When her son came up to her and said he didn't want to play football any longer her answer was simple: "If you don't want to play football, don't."
Lieberman wants parents to listen more to their children and let them be who they want to be, especially when they are young.
"Youth sports is amazing," Lieberman said. "You can be whatever you want to be. You can turn this love of sport into a life changer. Let the kid tell you what they want to do. Present the options, let them play everything, and eventually your kid is going to tell you what they enjoy. You're going to have to hear them. It's called 360 communication. Just because I'm older than my kid doesn't mean I can't hear them."
To go along with strong communication, Lieberman emphasizes an important three-letter word parents should always remember that links kids and sports.
"Kids play sports because it's fun, they get to be with their friends, it's competitive," Lieberman said. "One of the most amazing things you can do is play sports. Kids play for the right reasons. I didn't play basketball to be a Hall of Famer. I didn't play basketball to be an Olympian. I didn't play to be in the WNBA or to coach in the NBA. I played because I really had fun. Don't ever underestimate the word fun with your children."
Between the long, grueling NBA schedule, running basketball camps for the 36th year, attending her charity events and giving speeches, to say Lieberman is busy would be an understatement. She established the Nancy Lieberman Charities in 1989 and continues providing sports and educational opportunities for kids through basketball camps and clinics, scholarships, DreamCourts projects and backpack and laptop programs.
Despite the busy schedule, she couldn't pass up the opportunity to help Steel Sports in pioneering a more positive sports experience for kids by serving on its new advisory board.
"What made me want to be a part of Steel Sports' vision and what they are doing is that they want to give kids that are participating in sports every advantage that they could possibly have," Lieberman said. "Steel Sports wants to put them in the right environment, with the right coaches, with the right mental, physical and emotional teaching that you need. Every kid is treated as an individual with individual feelings."
No one on the Steel Sports advisory board has been a bigger pioneer for their respective sport than Lieberman, and that's why she was a perfect choice to help the company change the culture of youth sports.
"We're all in this together," Lieberman said. "We are generation now and our job is to help generation next. That's what Steel Sports is all about: changing the future of youth sports."
###
About Steel Sports:
Founded in 2011, Steel Sports Inc. is committed to improving the youth sports experience and enriching children's lives. Our organization recognizes the value that sports and fitness has in providing meaningful and life-changing experiences for our nation's youth. We operate and manage participatory and experience-based businesses in the youth sports and exercise marketplace, emphasizing a positive and fun environment while instilling our values of discipline, teamwork, safety, respect and integrity. The Steel Coaching System is implemented with each portfolio company to ensure our coaches are educated and prepared to have a positive impact on our athletes. Our core businesses include: National Youth Baseball Championships, the country's premier travel ball championship for ages 9U-14U; Baseball Heaven, a 30-acre baseball complex in Long Island; and UK Elite, one of the largest soccer programs in the country offering programs such as summer camps, coaching services, teams and tournaments.