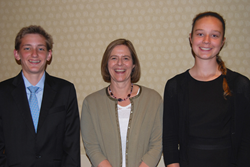 Lexington, MA (PRWEB) June 06, 2016
Brooke Krivickas (Winchester, MA) and David Horcher (Concord, MA), students at Lexington Christian Academy in Lexington, MA, were honored at the Seventeenth Annual Middle Level Scholar Leader Awards Banquet, held at the Best Western Royal Plaza in Marlborough, Massachusetts, on May 17, 2016. The students were presented with an award whose criteria included demonstrating academic initiative and scholarship, providing service to classmates and school, exemplifying positive attitudes and demonstrating leadership in the classroom and school activities.
Other criteria that can be considered include showing respect for self and others, contributing ideas that improve the civic life of the school, being dependable and well organized in any responsibility undertaken, volunteers and is gladly available and willing to sacrifice to offer assistance to others, and accepts criticism willingly and recommendations graciously. The selection process is taken seriously and begins with the 8th grade teachers with comments welcome from 6th and 7th grade teachers.
Over 400 guests, including students, educators, and parents, attended this year's banquet, which celebrated the achievements of middle level students who are representative of the many outstanding young adolescents in middle level schools in Massachusetts. The guests included seventy-eight students from thirty-nine schools from all over the state.
The Middle Level Scholar Leaders Award is organized annually by the Commonwealth of Massachusetts Middle Level Educators (COMMLE) and the New England League of Middle Schools (NELMS), with supporting sponsorship from Massachusetts Secondary School Administrators' Association (MSSAA) and Lifetouch National School Studios.
For more information about the Scholar Leader Award program, please contact NELMS.
For the list of participating schools from this event, please visit: http://www.nelms.org/pages/awards/sl_ma.html
Lexington Christian Academy is an independent college preparatory school that exists to educate young men and women in the arts and sciences in the context of a complete commitment to the gospel of Jesus Christ.