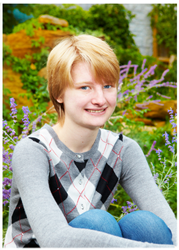 Having essential tremor has changed my life by forcing me to find creative ways to solve problems.
Lenexa, KS (PRWEB) June 08, 2016
The International Essential Tremor Foundation (IETF) is pleased to award a $500 scholarship for a second time to student Katie Merrill from Arvada, Colo., for the 2016-2017 academic year. Merrill is one of four students from across the nation to receive a scholarship award from the IETF. Merrill was also awarded the IETF scholarship in 2015.
Currently pursuing a degree in Forensic Computing and Communications at Kansas Wesleyan University in Salina, Kan., Merrill understands the trials of living day-to-day with essential tremor. "Having essential tremor has changed my life by forcing me to find creative ways to solve problems," Merrill said.
Merrill confronts her ET as a challenge she's willing to accept—like photography. Despite her shaky hands, she strives to get a steady shot for the campus newspaper and yearbook. She also balances marching band, orchestra and is a team member of the campus debate team, all while maintaining a full college course load. Merrill uses her involvement in speech and debate to raise awareness about ET, earning her first place at the 2016 Pi Kappa Delta National Speech and Debate Tournament in Kentucky.
"Essential tremor has caused a fair amount of frustration in my life. As a photographer, I run into an array of problems, but there is no problem that has been thrown at me that I haven't been able to solve yet," Merrill said.
Essential tremor is a neurological condition that affects more than 10 million Americans. ET causes rhythmic shaking of the hands, head, and voice. ET is often misdiagnosed as Parkinson's disease, although eight times more common. ET is characterized by action tremor, making everyday tasks such as eating, drinking, and writing difficult if not impossible. There is no cure for this life-altering condition.
IETF scholarships are awarded to qualified students of all ages who have been diagnosed with ET, to lessen the burden of higher education. The scholarship can be used for supplies, books or tuition at licensed, accredited institutions of higher education (including trade schools) and are paid directly to the educational institution. For more information about the IETF scholarship program, please visit http://www.essentialtremor.org/about-the-ietf/scholarships.
About The International Essential Tremor Foundation:
Headquartered in Lenexa, KS, and founded in 1988, the International Essential Tremor Foundation is the leading organization in the world dedicated to those affected by essential tremor. The mission of the IETF is to fund research that will find the cause of essential tremor and lead to better treatments and a cure, increase awareness about ET, and provide educational materials, tools and support to healthcare providers, the public, and those directly affected by ET.
The IETF has distributed nearly $1 million in research grants, to fund numerous promising studies, in the search for the cause of ET. The Foundation has hosted numerous community awareness events across the U.S. to provide those affected with the basic knowledge necessary to become their own advocate when seeking treatment. And, the IETF also provides assistance to a vast network of support groups around the world. To learn more about essential tremor and the IETF mission, visit the IETF website at http://www.essentialtremor.org.