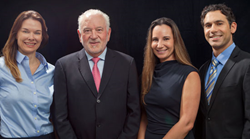 Torrance, California (PRWEB) June 07, 2016
South Bay Plastic Surgeons (http://www.plasticsurgerysource.com) moved this month into custom-designed offices in Torrance featuring a state-of-the-art surgical center. The team of plastic surgeons will perform procedures at the facility, known as The Aesthetic Institute.
"Beautifully designed and furnished, The Aesthetic Institute took years of careful thought and planning," Dr. Charles W. Spenler says. "We hired the best architects, interior designers, and contractors in Southern California to guarantee that our patients experience beauty and tranquility from the moment they enter our facility."
The plastic surgery practice, which serves patients from Manhattan Beach to Long Beach and throughout the South Bay, features a team of highly trained, board-certified plastic surgeons and anesthesiologists. The surgeons include Dr. Michael K. Newman, Dr. Lisa L. Jewell, and Dr. Whitney A. Burrell, in addition to Dr. Spenler.
The new location provides surgical consultations in a custom-designed office inside a newly renovated medical office building on Lomita Boulevard, less than a half-mile from the previous practice office. That location is now The Spa at South Bay Plastic Surgeons and offers a full range of nonsurgical services provided by fully trained and licensed aestheticians and nurses.
"At the new office, we prioritized privacy and natural beauty," Dr. Jewell says, with modern lines and colors and an "organic Zen" design. "We have bright, natural light, a comfortable lounge area, and original art, all designed to create a welcoming atmosphere."
The 2,700-square-foot surgical center includes advanced equipment designed specifically for plastic surgery, such as tummy tucks, facial rejuvenation, and breast augmentation. As the newest surgical center in Torrance, the operating room emphasizes patient safety and quality of care, the primary criteria that earn facilities accreditation from the Joint Commission.
"We've looked forward to opening these new offices and surgical center for quite some time and are excited about the move," Dr. Newman says. "It's an upgrade for our entire team and for our patients, who are going to love both the advanced features of the surgical suite and the luxuries amenities throughout the whole office."
The surgeons began seeing patients at the new location at 3640 Lomita Boulevard on June 6, and a grand opening celebration is expected soon.
###
South Bay Plastic Surgeons (http://www.plasticsurgerysource.com) has 4 plastic surgeons practicing in Torrance. Dr. Charles Spenler has more than 25 years of experience helping plastic surgery patients achieve their goals through safe, effective procedures. Dr. Lisa Jewell earned her medical degree from University of Wisconsin Medical School in Madison and completed her internship and residency in general surgery and plastic and reconstructive surgery at University of Southern California. Dr. Michael Newman earned his medical degree from University of North Carolina at Chapel Hill and has 7 years of advanced post-doctoral surgical training, including a 6-year residency. Dr. Whitney A. Burrell's impressive educational credentials and training include a microsurgery fellowship at the Keck Medical Center of the University of Southern California. The doctors perform cosmetic and reconstructive procedures for patients from the Los Angeles area, including Torrance, Redondo Beach, Hermosa Beach, Beverly Hills, and Manhattan Beach.