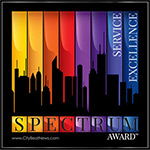 Herndon, VA (PRWEB) June 06, 2016
The Naderi Center for Rhinoplasty & Cosmetic Surgery has won a Spectrum Award for Excellence in Customer Service by City Beat News, an independent research and publishing company. The Spectrum Award honors companies for providing exceptional customer experiences. The award is based on customer feedback from sources such as blogs, review websites, social networks and rating services.
According to the City Beat News website, "We seek out, rate, and recognize companies that are the hidden gems of our communities. We believe this is good for consumers, good for business and good for building the trust and credibility that powers our communities and economies."
The Naderi Center's founder, Shervin Naderi, MD, FACS, is a Board Certified Facial Plastic Surgeon, educator, published author and Board Examiner for the American Board of Facial Plastic & Reconstructive Surgery. He is best known for his expertise in Rhinoplasty, Revision Rhinoplasty, and advanced injection techniques using Botox and dermal fillers. Dr. Naderi said, "The Naderi Center is committed to the ideals of expertise, ethics and exquisite patient care. We are honored to receive the Spectrum Award for Excellence in Customer Service based on positive feedback from our patients."
Dr. Naderi and his medical team offer both surgical and non-surgical treatments at two locations in the Washington DC area. Procedures offered include rhinoplasty, facelift, brow lift, eyelid lift, tummy tuck, breast augmentation, and breast reduction. Other treatments include Botox, lip augmentation, chemical peels, and dermabrasion.
Satisfied patient LKM shares her experience on the Naderi Center's website. LKM said, "From pre-op appointments to follow-ups, you all treated me with only the best care. Today, I look, breathe and feel the best I ever have! My new nose has given me the confidence to take on new experiences and face life with a different perspective. Dr. Naderi, you truly are a wizard of your craft. Thank you for preparing me for every aspect of my surgery and the healing process. You made me feel so comfortable and at ease throughout the entire process. I am so glad that I found you."
Dr. Naderi said, "We have the most specialized cosmetic surgery practice in the country with 3 unique board certified surgeons each focusing exclusively on a unique area of the face or body."
To learn more about The Naderi Center for Rhinoplasty & Cosmetic Surgery, visit their website, http://www.virginiafacialplasticsurgery.com.
The Naderi Center can be contacted at their two office locations:
5454 Wisconsin Ave, Suite 1655
Chevy Chase, MD 20815
Telephone: 301-222-2020
297 Herndon Parkway Suite 101
Herndon, VA 20170
Telephone: 703-481-0002