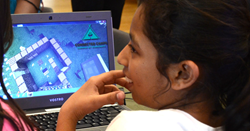 We think of Minecraft as more than just a game.
(PRWEB) June 05, 2016
Kids interested in playing Minecraft while gaining game design, engineering, architectural and coding skills are being offered online camps this summer through Connected Camps.
"We're delighted to be offering an expanded range of camps this summer," said Mimi Ito, Connected Camps co-founder and research director of the Digital Media & Learning Research Hub at UC Irvine. "We have developed new programs in architecture, engineering, game design, and intermediate coding that build on our kid camp and coding camp from last year. We've also learned that sometimes girls need their own special programs, so we are offering girls-only camps in addition to our coed camps to encourage more girls to join us."
The weeklong virtual camps, priced from $49 to $79, commence June 27.
The camps are being offered by Connected Camps, in partnership with the nonprofit organization Institute of Play. Campers, ages 8-15, can connect from the convenience of home, and will learn in small groups from expert counselors how to code, design, build, engineer, and survive in Minecraft. They can share their creations in an online forum, and will get a personal certificate of completion from their counselor. Connected Camps also offers free year-round access to its safe, moderated server, where kids can join counselor-led building and survival challenges, mini games, and clubs for various interests.
"We think of Minecraft as more than just a game," said Tara Tiger Brown, Connected Camps co-founder. "To us, it is a flexible, design-friendly environment that not only lets the imaginations of kids run wild, but also teaches them about problem solving, programming, and getting along with others."
To register for the camp or for more information, visit connectedcamps.com.
About Connected Camps
Connected Camps is a benefit corporation providing connected learning experiences that foster creativity, problem solving, collaboration and interest-driven learning. By leveraging the power of open networks and partnering with community-based organizations, Connected Camps is committed to delivering the highest quality online learning experiences to young people in all walks of life.
About Institute of Play
Institute of Play is a not-for-profit design studio that pioneers new models of learning and engagement. At the core of the experiences the Institute creates are games, play and the principles that underlie them. Using these principles, the Institute has created successful institutions, games, programs, events, digital platforms and products. Its first project was the design and launch of the innovative New York City public school, Quest to Learn.
Connected Camps and Institute of Play are members of the Connected Learning Alliance, which supports the expansion and influence of a network of educators, experts and youth-serving organizations mobilizing new technology in the service of equity, access and opportunity for all young people.