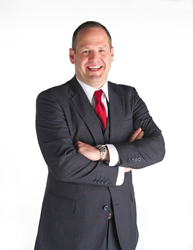 I believe he will become a very important part of the organization's continued growth and success.
Kenosha, Wisconsin (PRWEB) June 07, 2016
Kenall Manufacturing is pleased to announce the appointment of Christopher Scherer as the company's dedicated corporate counsel. Scherer is being retained through the law firm of DeWitt, Ross and Stevens in Madison, Wisconsin, and will be responsible for intellectual property program management, including strategy, execution and education, as well as corporate negotiations and litigation.
Scherer, who earned his Juris Doctorate from the John Marshall Law School in Chicago, Illinois, and his Bachelor of Science in Electrical Engineering from Marquette University in Milwaukee, Wisconsin, is a prolific speaker: he has given dozens of presentations on the topic of intellectual property law. He created and taught an Intellectual Property Law course at the Marquette College of Engineering. He is the Programming Chair for the Wisconsin Intellectual Property Law Association (WIPLA), and is a member of the American Intellectual Property Law Association (AIPLA), the American Bar Association (ABA) and the Milwaukee Bar Association (MBA). He is actively involved in the International Association for the Protection of Intellectual Property (AIPPI), and serves on the AIPPI-US National Steering Committee. The Executive Committee of AIPPI has also appointed Scherer to its International Standing Committee on Standards and Patents.
Scherer concentrates his practice on domestic and international patent prosecution, particularly for electrical and electronic circuits and systems; computer software; medical devices; medical patient monitoring and treatment technology; device fabrication; optical devices and systems; as well as mechanical devices. He is admitted to practice in Wisconsin, Illinois and the District of Columbia. "We are excited to welcome Chris to the Kenall family, and I believe he will become a very important part of the organization's continued growth and success," said Kenall's CEO and Chairman, Jim Hawkins.
About Kenall
Kenall Manufacturing was founded in Chicago, Illinois in 1963 and has built a reputation for durable lighting solutions of superior quality and exceptional value. Today, the company focuses on the high-abuse, correctional and transportation—including parking, transit and tunnel and sealed enclosure for healthcare, labs, cleanrooms and food processing. Kenall luminaires are designed and manufactured in the USA and meet the guidelines established under the Buy American Act and the North American Free Trade Agreement. For additional information, visit http://www.kenall.com.