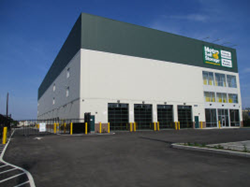 Lake Forest, Illinos (PRWEB) June 03, 2016
Metro Storage LLC today announced the opening of a brand new, state of the art storage facility in the Sheepshead Bay neighborhood of Brooklyn, New York. Located at 2727 Knapp Street in Brooklyn, this ground up development is Metro's fourth New York store.
"This is a superb store in an exceptional location." said Metro Storage LLC Chairman Matt Nagel. "The addition of this property to our portfolio reflects our strategy of growth and expands the Metro brand in the greater New York area."
The location and design of this facility is optimized to meet the varied storage needs of the surrounding community. The new, four-story building has 1357 climate controlled storage units encompassing over 80,000 rentable square feet and features multiple drive up access points, 4 interior loading bays, state of the art security, and several elevators conveniently located throughout. It includes a broad range of unit sizes from small 5x5 lockers for individuals needing a little more space to large 10x30 units that are great for business storage, with all sizes in between.
"We travelled a long road over five years to get to the point where we welcomed in our first tenants at the Knapp St. facility this month." said Marty Gallagher, President and COO of Metro Storage LLC
Working closely with local and municipal groups and agencies, Metro overcame numerous challenges to build this state of the art facility in the Sheepshead Bay/Gerritsen Beach area of Brooklyn.
"Our biggest challenge was to modify a long-standing restrictive covenant over the land which limited any development on the land to only a retail site with a marina component." explained Gallagher. "This restriction resulted in this site being vacant for nearly 30 years."
In addition, Metro worked with the local Community Board to address nearby resident concerns, the State Department of Environmental Conservation on considerations of having a facility adjacent to a public waterway, as well as the various City departments involved in the design, permitting and construction oversight of the project.
"We received fantastic support from the local residents, the Community Board #15, the 46th District Councilman, as well as ongoing encouragement from the City Planning Commission to stay the course and see the project through to completion." said Gallagher. "In the end, Metro Self Storage has raised the bar on the quality of the self storage product offerings and customer service in the Sheepshead Bay/Gerritsen Beach neighborhoods and surrounding communities for years to come with this facility."
The ownership group includes Metro Storage LLC, Clark Investment Group of Wichita, Kansas, and Post Management in New York City.
About Metro Storage LLC
Metro Storage LLC is a privately owned, fully integrated, international self-storage operating company specializing in the development, construction, acquisition, and management of self-storage facilities in the USA and Brazil. Metro operates under the trademark Metro Self Storage in the US, being one of the top 10 largest owner/operators of self-storage facilities in the United States with over 100 stores covering 12 states. Metro operates in Brazil under the trade name MetroFit which is one of the fastest growing self-storage companies in Brazil. More information about the firm is available at http://www.metrostoragecorporate.com