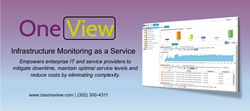 OneView delivers a monitoring system platform that meets the need of all IT teams.
Costa Mesa, CA (PRWEB) June 07, 2016
Corporate Software Services, Inc. (CSS), a global consulting and services provider, today released OneView, a new centralized platform for IT system monitoring.
OneView, a software-as-a-service (SaaS) offering, empowers enterprise IT and service providers to mitigate downtime, maintain optimal service levels and reduce costs by eliminating complexity. The OneView platform is built on a unified architecture that supports hybrid computing (both cloud and on-premise data centers) and eliminates the need to purchase, install, maintain, deploy, update, and train for multiple tools.
OneView delivers a platform that meets the needs of all IT teams. The dashboards within OneView can be configured with specific information that is important to those individuals. Each department or individual can have their specific OneView dashboard to monitor the items that are of most important to them. The CIO can have a view that displays the entire global business, while the engineers can create a view that provides granularity of a specific set of devices. These same dashboards can be configured for business users or line managers so that they can have visibility into the critical business systems that are comprised to deliver their services.
OneView is fast to deploy, scalable, and offers pricing based on a subscription model which meets the needs for managed service providers as well as enterprises looking to shift their cost to an operating expense versus a capital expenditure. OneView is supported by a global team of highly trained engineers on a 24x7 basis. This allows the customer to focus on the core business while CSS focuses on running the toolset.
"Having partnered with managed service providers, enterprise customers and system integrators across 35 countries over the past five years, we uncovered several, very specific needs for systems monitoring," said Noel Gie, Corporate Software Services president and CEO. "We developed OneView to address this demand, and combined it with a managed service offering supported by a team of expert engineers."
About Corporate Software Services, Inc.
Corporate Software Services, Inc. (CSS) is a global consulting services provider focused on delivering innovative business and enterprise ready solutions. We are capable of working across all technology platforms, operating systems and infrastructures. CSS partners with recognized Software vendors, Managed Service Providers and System Integrators to perform implementations, technical upgrades, and optimization projects, as well as full 'Run and Operate' capability.