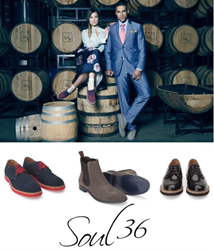 Soul36 is the equivalent of a shoe micro-brewery. Creating a small, but splendidly impeccable batch of urban classic footwear.
New York, NY (PRWEB) June 13, 2016
Soul36 is a brand new, one-of-a-kind New York City based company, on a mission to create the world's most versatile shoes, just released to the public. With both fashion and comfort in mind, Soul36 shoes fit great and have a look that will make people stop in their tracks. Never walk with discomfort again, no matter the occasion. One shoe creates endless possibilities and outfit choices; a perfect solution for professionals on-the-go.
Jacques Messeca, who has worked with several footwear brands including (but not limited to) Steve Madden, founded Soul36 with Joel Kipnis, an artist turned major music producer at Pulse Music. Their philosophy is simple; to quote Joel, "a shoe should be stylish, durable, adaptable and above all, comfortable. It should make a statement about who you are and what inspires you."
Soul36 shoes has released the first of 3 styles: The Grant and The Fairmont for men, and The Gracie for women. These shoes are sleek and flattering when paired with any outfit. With fun and unique color combinations, there is a shoe for every man or woman looking to add a classic and comfortable staple shoe to their wardrobe. The soles are ultra shock absorbing and beautifully colored, adding an eye-popping element of flair. A superior quality shoe is paramount to these gentlemen; each shoe is handmade in Brazil with experienced craftsmanship, premium quality leathers and expert stitching. For anyone in need of a sharp, high quality shoe at an affordable price, the search stops with Soul36.
The shoes are sold exclusively through their online store: Soul36.com, recommended for anyone who wants to look and feel exceptional.
Check Soul36 out on social media!
Instagram | Facebook | Twitter