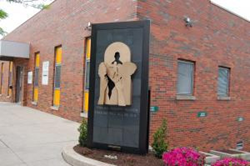 "Each year the County has recognized savings greater than guaranteed in our Agreement. These additional savings exceeded our guarantee by over 30%." -Lisa Mahall, P.E. Schuylkill County Engineer and Real Estate Director
Pottsville, Pennsylvania (PRWEB) June 08, 2016
Through a continued partnership between the County and McClure, McClure has provided (3) phases of energy projects for county owned buildings, including the court house, prison, 911 center, and the adult probation office.
For the latest phase, McClure Company will provide an energy savings solution for the County's Human Resource Building, which is located at 410 N Centre Street, Pottsville. The energy upgrades include a new heating and cooling system for the building, a new roof and upgrades to the windows and exterior doors. The building heating system fuel will be converted from electric resistance to natural gas heat. The roof will be replaced with new black EPDM roof with a 30 year warranty. Also, the building will receive (69) high efficiency windows and (7) new exterior doors.
Like the other phases, the projected energy savings will be contractually guaranteed by McClure Company over the term of the contract.
The Human Resources Building energy project has numerous benefits to the County. In addition to guaranteed energy savings, the County will be upgrading the mechanical equipment and improving the building envelope, which will result in lower overall maintenance costs and improve occupant comfort.
Schuylkill County's commitment to energy efficiency has resulted in lower energy costs and increased saving of valuable tax-payer money.
About McClure Company
Founded in 1953, McClure Company is the largest integrated energy, engineering and mechanical contractor in the state of Pennsylvania with our in-house team of engineers, designers, installers, and maintenance technicians. McClure's non-proprietary, flexible solutions have helped over 60+ school districts, government facilities, higher education campuses and health care facilities leverage energy and operational savings to fund capital improvements through guaranteed energy savings projects. To learn more, visit their website at http://www.mcclureco.com.