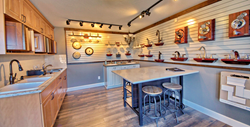 Unlike big box retailers, Design Centers offer a place where homeowners can come in, relax, and take their time to explore the many options.
Vancouver, WA (PRWEB) June 03, 2016
One of the joys of building a new home is the ability to personalize each room based on individual budget, tastes, and lifestyle. But stand in the aisle of any major home improvement store and it's easy to get overwhelmed with choices. That's why Design Centers offer a better way to plan and design a more personal home.
Unlike big box retailers, Design Centers offer a place where homeowners can come in, relax, and take their time to explore the many options. The Design Centers at Adair Homes are staffed by Pro Team members that are specifically trained to help homeowners create the right look while remaining within budget.
During a scheduled appointment, new homeowners have access to the Adair Homes PRO TEAM that can answer questions about design, construction, customization options and more. Here are just a few of the ways that visiting a Design Center can help homeowners create a home to love for a lifetime.
Flooring - Most homeowners have a strong preference for tile, carpet or hardwood. But choosing the right flooring can be more complicated than that. For example, Hardwood flooring can vary based on color, wood, and plank width. There are additional considerations including budget, style, and usage. Design Centers feature experienced professionals that can help homeowners understand the pros and cons of each option to make a confident choice.
Fixtures - Often the smallest things can make a big impact on the interior style of a home. This can include faucets, light fixtures, door hardware and more. Some are ideal for a sleek and modern look while others are designed for a more traditional home. Design Centers provide a wide variety of options to mix and match so homeowners can find just the right look.
Cabinets - Cabinets are an important part of choosing the right style for kitchen and baths. Choices range from rich oak to classic white and everything in between. Cabinetry can include different types of wood, different stains, and different styles including flat, raised panel, inset, distressed and more.
Countertops - The right countertop is about both style and substance. Granite is a popular choice that comes in an almost endless variety of colors. Quartz is also gaining popularity for homeowners who prefer a more modern look. Design Centers that have a wide variety of options give homeowners the ability to easily compare color, costs and quality.
Tile - Tile is one of the most versatile and budget-friendly ways to add a designer look to a new home. From a splash of color in the kitchen backsplash to tile floors in the master suite, tile comes in lots of sizes, shapes, colors and price points.
Adair Homes is a custom home builder that features Design Centers in Medford, OR; North Bend, WA; Bend, OR; Woodland, WA; Aurora, OR; Olympia, WA and a new Design Center coming soon in Creswell, OR. New expanded design selections at all other locations as well. Each Adair Homes Design Center is thoughtfully designed by our talented on-staff interior designer and features selections from some of the most trusted brands including Moen, Shaw Flooring, Emser Tile and more.
Residents of the Mid Willamette Valley area are invited to join in on the fun as Adair celebrates this exciting expansion in the Creswell office. Festivities are scheduled for Tuesday, June 28th from 2 pm to 6 pm. For more information about Adair Homes or to schedule an appointment visit adairhomes.com or call (360) 448-6061.