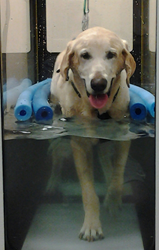 I noticed that he was more playful like the way he used to be when he was younger and he has no problem keeping up with our other 5 yr old lab
Lewisville, TX (PRWEB) June 13, 2016
Koda had started to slow down, limp and he seemed unhappy around the age of nine. His left elbow began to swell to abnormal size; an X-ray showed he had elbow dysplasia and arthritis. Koda's veterinarian drained the elbow and administered a steroid injection. This procedure was performed twice within three months without much improvement.
Koda's owners sought out a specialist in pain management, Dr. Stramel, to try to get Koda some more relief. After further diagnostics including a CT scan, changing up his medication and other treatment options including shockwave therapy and hyaluronic acid injections, the decision to move forward with stem cell therapy was made.
Dr. Stramel began with a fatty tissue collection from Koda, the tissue sample was sent overnight to VetStem's lab in California for processing. Once processed the stem cells were quality checked and the injectable doses of Koda's stem cells were sent overnight to Dr. Stramel at Advanced Care Veterinary Services. Within 48hrs of collecting the fat sample from Koda, Dr. Stramel was able to inject stem cells into his elbow as well as administering an intravenous dose to begin the healing process. Koda's owners have been beyond thrilled with the progress ever since.
Douglas Stramel received his Doctorate of Veterinary Medicine from Kansas State University in 1991. In 1994 he was accepted as an intern with the Dallas Veterinary Surgical Center (DVSC). While at DVSC he gained extensive knowledge in advanced surgical techniques. Dr. Stramel is a member of the American Veterinary Medical Association, American Animal Hospital Association, International Veterinary Academy of Pain Medicine (IVAPM), and International Association for the Study of Pain and American Society of Regional Anesthesia and Pain Medicine.
Dr. Stramel has been certified in Regenerative Cell Therapy since 2007, using adult derived stem cells to treat a wide variety of orthopedic conditions. Dr. Stramel has treated several patients with stem cell therapy including his own dog.
Koda's owner, Melissa said "I whole heartily believe that in combination with physical therapy on a regular basis, acupuncture, chiropractor care, medication, and stem cells that he is a much happier and healthier dog than when we started this journey. I noticed that he was more playful like the way he used to be when he was younger and he has no problem keeping up with our other 5 yr old lab." "Koda can now go up and down the stairs when he wants to and not struggle. He had been hesitant to go on walks for a period of time prior to the stem cell therapy but now there is no hesitation. Koda's spirit is uplifted and he seems very cheerful and comfortable, he even receives compliments from other people about how good he looks for his age". Melissa would recommend stem cell therapy to other dog owners and has enjoyed watching Koda do well throughout this process.
Stem cells are regenerative cells that can differentiate into many tissue types as well as being able to reduce pain and inflammation thus helping to restore range of motion and stimulate regeneration of tendon, ligament and joint tissues (http://www.vet-stem.com/science.php). In a study using VetStem Regenerative Cell Therapy on dogs with osteoarthritis of the hip joint it was found that regenerative cell therapy (adipose-derived stem cells) decreases patient discomfort and increases patient functional ability.
About Advanced Care Veterinary Services
Advanced Care Veterinary Services, which opened in 2013, is a state of the art pain management and rehabilitation facility in Lewisville, Texas. They offer a wide variety of therapies and services including Stem Cell Therapy, physical therapy, including modalities such as acupuncture, electrical stimulation, low level laser therapy, aqua-therapy, intra-muscular dry needling, shockwave therapy and therapeutic exercise/activities. Multi-modal pain management services are a huge focus that offers cutting edge protocols to treat osteoarthritis, inter-vertebral disc disease, cancer, and more. It is the first facility of its kind in the Dallas/Fort Worth metroplex. The facility is headed up by Dr Douglas Stramel who has been serving the area for over 20 years. It boasts a state-of-the art 3,800 square foot facility, equipped with the first indoor public dog pool in Dallas.
About VetStem Biopharma
VetStem Biopharma is a veterinarian lead company that was formed in 2002 to bring regenerative medicine to the profession. This privately held biopharmaceutical enterprise, based near San Diego (California), currently offers veterinarians an autologous stem cell processing service (from patients' own fat tissue) among other regenerative modalities. With a unique expertise acquired over the past 14 years and 12,000 patients treated by veterinarians for joint, tendon or ligament issues, VetStem has made regenerative medicine applications a therapeutic reality beyond the realm of research. The VetStem team is focused on developing new clinically practical and affordable veterinary solutions that leverage the natural restorative abilities present in all living creatures. The company's stated mission being "to extend and enhance the lives of animals by improving the quality of recovery in acute conditions, but also by unlocking ways to slow, stop and ultimately revert the course of chronic diseases". In addition to its' own portfolio of patents, Vet-Stem holds exclusive global veterinary licenses to a portfolio of over 55 issued patents in the field of regenerative medicine.
CONTACT INFORMATION
Advanced Care Veterinary Services
Dr Douglas Stramel
214-488-8500
stoppetpain@gmail.com