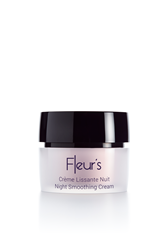 Ideal for all skin types, Night Smoothing Cream counters the signs of aging from the very first use. Night after night, the skin is revitalized - wrinkles are smoothed, the skin is plumped and a fresh complexion is revealed.*
SAINT-MALO, FRANCE (PRWEB) June 09, 2016
Fleur's Night Smoothing Cream moisturizes, plumps and smooths the skin overnight for unprecedented youth results. Part of the Fleur's anti-aging collection, it is formulated with Fleur's Smoothing Floral Bouquet, a powerful floral trinity that works on the skin's surface to fill lines and wrinkles and firm the skin. Complementary active ingredient encapsulated hyaluronic acid works deep within the skin to restore volume to hollow areas for a smoother, more youthful appearance. Night Smoothing Cream has a rich, balm-like texture and leaves a cashmere-soft finish. It has a delicate rose scent with energizing citrus and jasmine notes that linger subtly on the skin. Ideal for all skin types, Night Smoothing Cream counters the signs of aging from the very first use. Night after night, the skin is revitalized - wrinkles are smoothed, the skin is plumped and a fresh complexion is revealed.*
Night Smoothing Cream, 50 ml, suggested retail price $96.50
Directions for use: Apply in the evening to the face and neck after cleansing.
Key ingredients:

Smoothing Floral Bouquet: a synergetic blend of highly effective floral extracts for maximum comfort and optimal youth effects.
Silene - antioxidant properties.
Cristus - smoothing properties.
Water Clover - firming properties.
Encapsulated Hyaluronic Acid - high molecular weight hyaluronic acid encapsulated in spherical particles for gradual, extended release. Penetrates to sub-layers of skin and plumps on contact with water, smoothing lines and wrinkles and filling hollow areas from within.
Impressive results:
Smoothed wrinkles
Smoother skin: 84%*
Plumped skin
Redensified skin: 84%*
Fresh complexion
Fresher skin: 96%*
*Satisfaction test on 24 volunteer aged between 45 and 65 years, with fine lines and wrinkles, lack of firmness and a dull complexion. Application of Night Smoothing Cream in the evening for 28 days.
Fleur's at a glance:
Fleur's, literally meaning "flowers," draws its inspiration and actives from the beauty and power of the floral universe, the splendor and expression of art and ultimately the inexhaustible possibilities of science. These passions are synergistically combined with aromachology, fruits, minerals, floral waters and organic ingredients to create an effective and sensorial skin care line. Fleur's focus is blending effective treatments with a true spa experience in every facet - unique and imaginative treatments and techniques. We are one of the only spa brands with our own laboratory, allowing us to research and cultivate our own ingredients, develop unique cosmetic formulas, manufacture skin care products and create cutting-edge professional treatments to deliver remarkable results.