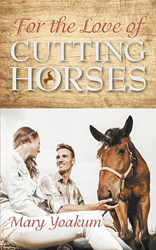 "This book looks at the world of horse breeding and also fits in a finely told romance." - Robert Fletcher, CEO of Strategic Book Publishing and Rights Agency
(PRWEB) June 08, 2016
After getting out of an abusive marriage a woman turns to the true love of her life…her horses.
In the dramatic romance novel "For the Love of Cutting Horses," Alisha's life is all about horses, which become her saving grace during her darkest hours. After leaving an abusive and financially ruinous marriage, Alisha rebuilds her life, beginning with her business as a successful horse breeder trainer, trainer and shower.
When her favorite horse gets sick Alisha meets Cliff, an English veterinarian running from his own past. Together they find purpose and strength. It is their affection for animals that allows them to weather everything that Alisha's ex-husband throws at them. Will they take a second chance at love?
First-time author Mary Yoakum brings sensitivity and emotion to this story about relationships and how they can change someone's life.
"This book looks at the world of horse breeding and also fits in a finely told romance. We are pleased to announce its release," said Robert Fletcher, CEO of Strategic Book Publishing and Rights Agency.
Watch the video at: https://youtu.be/HX79kbRWLGg
About the Author: Mary Yoakum was born in Baldwin Park, California, the youngest of six children. "When my father died, we moved around a lot for my mother's work. At eight, due to mom's health as well as educational and job opportunities, we moved to Pueblo, Colorado." She went to college in Leavenworth Kansas, earning BA in liberal arts/theater, and then moved back to Colorado, getting an AAS in computer science technology. She now lives in Denver. This is her first book.
FOR THE LOVE OF CUTTING HORSES (ISBN: 978-1-63135-770-1) is now available for $9.95 and can be ordered through the publisher's website:
http://sbprabooks.com/MaryYoakum or at Amazon.com or Barnesandnoble.com.
WHOLESALERS: This book is distributed by Ingram Books and other wholesale distributors. Contact your representative with the ISBN for purchase. Wholesale purchase for retailers, universities, libraries, and other organizations is also available through the publisher; please email bookorder(at)sbpra(dot)net.