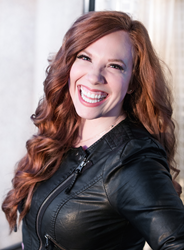 "Your daily life should be a reflection of your long term goals" says Chelsea Perry. "Where can I best invest my energy? Into building the next generation by contributing and downloading into them."
St. Louis, Missouri (PRWEB) June 06, 2016
JUMP! Kids® is a game changer for more than 6,500 five-to-thirteen-year-olds expected to attend the camp in St. Louis, Missouri, each summer. The contagious melodies and captivating plot lines help change the behavior of the kids as they learn about eye contact, manners, obedience, and the importance of caring about others. The camp teaches lessons that aren't being addressed anywhere else—life skills that are shaping ladies and gentlemen.
Watching lives transform has been Chelsea Perry's favorite part of the process. In the twelve years since she first created the JUMP! Kids Club musical, she has addressed subjects including bullying, worrying, and saving your money. From the first creative moment of dreaming up each year's musical, she and her incredible team have seen the project through to the last curtain call. Perry has written each song, the stage direction and all the dialogue, and she has designed every set. Through this process, she has honed a unique ability to captivate thousands of young kids with a live experience, keeping their attention despite the modern perception of shortened attention spans and changing brain waves. Each year, the audience is on the edge of their chairs, captured by Perry's quick wit and meaningful subject matter!
The focus of her life has been dedicated to mentoring and developing young leaders both locally and internationally. "Your daily life should be a reflection of your long term goals" says Chelsea Perry. "Where can I best invest my energy? Into building the next generation by contributing and downloading into them." JUMP! Kids has performed at local St. Louis City elementary and middle schools for the past two years and previously in England and Africa too. In Kosovo, there is an annual JUMP! Kids summer camp with over 3,000 kids in attendance!
Chelsea Perry will also be releasing the fifth JUMP! Kids CD this summer. Previous album releases include over 40 songs full of life lessons and manners such as "Put Your Phone Down," "I Love Being Me," and "Don't Compare," which can all be found on iTunes.
Apart from being a playwright and a songwriter, Chelsea has also found success through her art by co-branding with companies such as bumGenius to have her work featured on cloth diapers. She also creates commissioned art pieces, including huge graffiti walls, tattoo artwork, and paintings.
For more information about Chelsea Perry, visit chelseaperry.com and jumpkids.com.