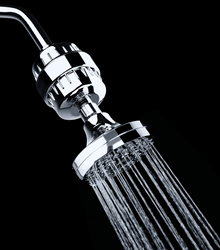 I installed it myself, and it only took a couple of mins. I can't believe the difference this makes to the water. Soap and shampoo bubble up so much more, and the horrible smell of chlorine has gone. - C Godfrey
Las Vegas, Nevada (PRWEB) June 06, 2016
The team at AquaBliss is thrilled to announce the launch of their latest luxury bathroom accessory. The easy-to-install high output shower filter delivers robust water purification benefits, including chlorine and heavy metal removal from your shower water.
The AquaBliss SF220 chlorine shower filter offers a universal design and can be easily attached to standard shower arms without the use of any tools. The advanced shower filter offers powerful 3-stage filtration and can more efficiently remove chlorine from both hot and cold water.
The shower water filter also benefits those suffering from flaky scalp, dry skin, dandruff, and eczema with its filtration capabilities. The filter also reduces the risk of chlorine inhalation. According to the AquaBliss team, the new shower filter also kills bacteria, while inhibiting the growth of scale, lime, mold, and fungi from water.
The luxury shower filter also softens hard water by way of a specialized medium that filters out heavy metals that create hard water and stain bathtubs and showers.
The AquaBliss team is thrilled to unveil their latest luxury bathroom accessory, which helps consumers create cleaner, healthier shower experiences. For those who experience skin issues, the new shower filter offers a simple way to avoid flare-ups and breakouts. The high capacity filter won't affect normal water pressure, meaning that consumers can expect the same level of water pressure as before the AquaBliss High Output Shower Filter was installed.
The medium used within the shower filter is a combination of high quality and non-toxic KDF 55, calcium sulfite, and carbon that result in over a 95 percent reduction in chlorine, heavy metals, and other impurities. Users can expect softer skin, more manageable hair, and other benefits. The AquaBliss team says that the High Output Shower Filter will last approximately 6-8 months. Each filter comes with step-by-step instructions and can be quickly and easily installed.
AquaBliss is proud to add the High Output Shower Filter to their inventory of premium shower accessories, including the recently upgraded HS210 Hand Shower.
"Our products are built to the highest standards of quality and performance, and with no compromise on style. We strive to ensure each and every product is durable, practical, and unique," said David Pitman, the founder of AquaBliss.
To find out more about AquaBliss and their product range, visit http://www.AquaBliss.com or like the AquaBliss page on Facebook to join the growing community of shower enthusiasts that receive exclusive bathroom information and tips.
Amazon shoppers looking for AquaBliss's new shower filter can purchase it exclusively through Amazon: http://www.amazon.com/AquaBliss-Universal-Replaceable-3-Stage-Cartridge/dp/B01G7AZB96. The shower filter retails for $31.86, but for a limited time, customers can save 20 percent by entering SF220PR1 at checkout. This shower filter is backed by AquaBliss' 100 percent money-back guarantee, which promises a full refund. No questions asked.