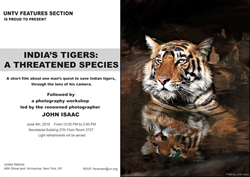 Working with John on this documentary was instrumental to raising awareness of the ecological balance provided by these tigers. This is one of the most memorable films that I've worked on during my entire UN career. --Mary Ferreira
New York, NY (PRWEB) June 06, 2016
John Isaac, world renowned photographer and endangered animal documentarian, is pleased to announce his participation in "Saving the Indian Tiger, One Photo at a Time," a documentary produced by the United Nations "21st Century" a half hour news magazine. The episode will make its debut Weds June 8th from 12-2pm at the United Nations Headquarters building in New York City.,
"I am honored and would like to thank the United Nations for taking the time and providing the resources to shed light on this important topic," said Isaac. The tiger population in India is in danger of extinction, mainly because of loss of habitat and poaching. According to the latest estimates, the number of tigers in the wild is 2,226 in India; at the turn of the century, there were about 40,000 tigers in the wild.
Isaac who has taken countless self-funded trips from New York to India to document the life of the tigers especially those in Ranthambore, India, will be attending the premier. Isaac, former UN Chief Photographer left his position in the late 1990s to pursue his passion of wildlife photography.
"Working with John on this documentary was instrumental to raising awareness of the ecological balance provided by these tigers. This is one of the most memorable films that I've worked on during my entire UN career. It was a privilege to work with John who didn't hesitate when I first proposed the film four years ago," said filmmaker, Mary Ferreira.
"It is important that we all do our part to prevent the extinction of these beautiful animals. They don't have a voice and we need to be their voice," said Isaac.
The premier will be held in Room 2727, UN Secretariat Building, New York. For reservations contact ferreiram(at)un(dot)org. For more information on John Isaac log on to http://www.johnisaac.com
About John Isaac:
John Isaac was a United Nations photojournalist for over 30 years. His experiences led him to a dramatic career change in the late 1990s. Back then he was chief photographer at the United Nations, for which he had traveled to more than 100 countries over two decades to shoot the death and destruction of human conflict and natural disasters. He bore witness to Pol Pot's Cambodian Killing Fields, the Iranian Revolution, and the Ethiopian famine of 1984. But the Rwandan genocide of 1994 pushed him over the edge—into an emotional abyss that made him realize he just couldn't do that kind of photography anymore. Indeed, Isaac's emotional involvement with his subjects, and his impulse to help them rather than use them as tools of photographic advocacy, may have made him less successful as a photojournalist. Not long after he resigned from the U.N., Isaac had a reawakening triggered by his lifelong love of the natural world. Shifting around the same time to digital capture, he began to photograph wildlife—perhaps an antidote to the toxins of human rancor that had built up in his psyche. With a few detours—among them to Kashmir, where he shot the daily life and natural landscape of that contested territory to show that peace is possible anywhere, work that was published in a 2008 book—he has been shooting wildlife for over ten years.
For more Information on John Isaac click here http://www.johnisaac.com