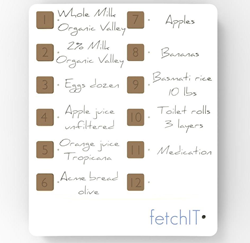 "We are happy to see actual solutions in the consumer space that utilize the advantages and benefits that the IPv6 stack brings to the marketplace," said Mr. Linus Tan, VP, IPv6 Forum (Singapore).
Singapore (PRWEB) June 07, 2016
Tantiv4 is pleased to announce the unveiling of its flagship product, FetchIT, at Communicasia 2016, at the Internet of Things Theatre. The event, co-hosted by the IPv6 Forum, focused on uses of IPv6 to accelerate design and adoption of Smart Objects, included presentations by Mr. Sanjeev Gupta, VP Dev Ops, Tantiv4.
Ms Anshu Shrivastava, CEO, Tantiv4 explained the advantages of the product to the Millennial generation, adding, "This is a product that would have been difficult, if not impossible, to produce without the use of IPv6. By innovating within the IETF and IEEE standards, we are able to produce something that customers want, and at a price much below what has been possible till now."
FetchIT provides services for consumers to restock frequently-used groceries, and integrates with existing and new online ordering and delivery systems. It also enables, through its use of data analytics and smartphone Apps, the ability to understand, predict and proactively trigger responses to consumer behavior. The in-home ecosystem uses standards-compliant technologies, including the Thread Protocol and IPv6 over Low Power Wireless Personal Area Networks (6LoWPAN).
"We are happy to see actual solutions in the consumer space that utilize the advantages and benefits that the IPv6 stack brings to the marketplace," said Mr. Linus Tan, VP, IPv6 Forum (Singapore). "This is a device that interoperates and achieves fantastic power savings by its use of the standards."