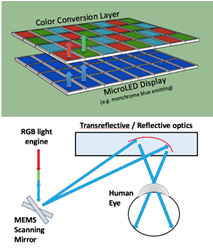 We can generate multiple colors on a single downconverting chip, whether a pixelated color converting frontplane for emerging microLED displays, or an optically pumped RGB VCSEL array for VRDs using cheap laser diodes
Bridgewater, NJ (PRWEB) June 07, 2016
VerLASE Technologies announced today that US Patent No. 9,354,366 has issued, extending aspects of its revolutionary Chromover™ color conversion technology. The technology is a new approach for efficiently converting colors from inexpensive, widely available blue/violet light sources such as LEDs or laser diodes to any color in the visible, in particular to the optimal greens and reds needed for the ideal projection of images, whether in Near Eye Displays (NEDs) for Virtual (VR) and Augmented Reality (AR) applications, or in larger projectors. Not only can the color of the output light be tailored, but also spectral characteristics and directionality. Devices can be designed as a laser, directional LED, or in-between, depending on the application.
The technology is ideally suited for integrating with microLED displays for the next generation of NEDs needed in AR applications. The light sources and microdisplay technologies used today have numerous drawbacks, whether in color quality, resolution, brightness, efficiency, or longevity, or a combination of all these. MicroLED technology, with individually addressable pixels, would be preferred for higher brightness and efficiency leading to longer battery life and very compact physical forms, but they are typically only monochrome (blue /violet) emitters. Phosphors or Quantum Dots have not been shown to work with microLEDs; moreover, many AR approaches use diffractive or holographic waveguide optics which are sensitive to the input angles and spectral width of the input source light.
Whether head mounted displays (HMDs) for VR in gaming or AR for the enterprise market, the field has drawn huge attention with significant product announcements or investments by Facebook, Google, Intel, Microsoft and others. Regarded by many as the "next big thing," NEDs and their associated systems and software portend exciting new ways for users to interact with computers, mobile devices and their environments. A key challenge, however, surrounds the light sources needed for realistic color projection of images onto a person's field of view, whether superposed 2D or full color 3D holographic images, or even directly projected onto a user's retina using so-called Virtual Retinal Displays (VRDs).
VerLASE's Chromover™ technology is a wafer scale, completely inorganic thin film structure consisting of a novel resonator cavity around semiconductor Quantum Wells (QWs) engineered to downconvert light to a desired color. Input light sources can be monochrome (blue /violet) MicroLED displays, low cost LEDs or available laser diodes, depending on application. The resonant structure dramatically increases light absorption for high efficiency, and can be designed to emit in a controlled cone angle as spontaneous LED light, or to lase in stimulated mode as an optically pumped VCSEL (Vertical Cavity Surface Emitting Laser), or in-between with tailored spectral properties including control of coherence to mitigate speckle, a big problem in projecting images with lasers.
"We can generate multiple colors on a single downconverting chip, whether a pixelated color converting frontplane for emerging microLED displays, or an optically pumped RGB VCSEL array for VRDs using cheap laser diodes," said Ajay Jain, VerLASE's Chief Technical Officer and inventor of the technology, adding that "both schemes make ultra small form factors possible for HMDs of the near future."
The Company has been working with leading players in the VR /AR space to better define market requirements, leading to solutions that will enable more stylish, unobtrusive realizations of HMDs and NEDs.
VerLASE Technologies LLC operates semi-virtually with partners around the world. It spun out of Vermont based Versatilis LLC (http://www.versatls.com) in 2013 with an investment by Wakley Limited, a Hong Kong based private investment group. Founded by Versatilis' principals George Powch (CEO) and Ajay Jain (CTO), it focuses on technology development for VCSELs, LEDs, and optoelectronic devices involving novel materials, structures and processes. It is also extending novel 2D layered materials technology developed by Versatilis in part with the help of numerous Small Business Innovation Research (SBIR) Awards from Government Agencies including DOE, DARPA, ONR and ARL.