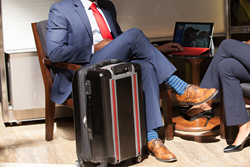 It didn't make sense that luggage wasn't adapting to the changing world around us.
Florida (PRWEB) June 07, 2016
Today, TraxPack launched a Kickstarter campaign for a smart suitcase designed to make travel more smooth and secure. Central to the bag's design is a self-adjusting track system for climbing stairs and a tilting handle for added maneuverability. It is available on Kickstarter for the Super Early Bird Price of $198.
TraxPack maintains a sleek, minimalist design with an aluminum polycarbonate body. The bag has more than a dozen special features to reduce the common stresses associated with traveling, including:

Baggage Positioning System (BPS™) - Leverages GSM and GPRS technology to track your bag from city to city.
Proximity Sensor - Alerts you when your luggage is on the way to baggage claim, or if something is amiss.
Built-in Luggage Scale - Say goodbye to overweight baggage penalties.
Mobile Device Stand - Prop up your device for easy browsing during layovers.
Dual USB ports - Charge up to two devices at once.
TSA Locks - Added security for your bag and ease of access for authorities.
The inspiration for TraxPack comes from a friendship that revolved around frequent travel.
"I had my fair share of travel complications when traveling for business. I have lugged my heavy suitcase up and down stairs, paid penalties for overweight baggage, ran out of battery power for my devices, and had my luggage lost by airlines," said Co-Founder Naisha Joseph. "It seemed like whenever Richard and I got together, I was complaining about my luggage."
"It didn't make sense that luggage wasn't adapting to the changing world around us," said Co-Founder Richard Braddock. "I listened to Naisha's pain points and created the proof of concept for TraxPack. It was an amazing feeling to call her up and say that I found a solution for her travel problems."
TraxPack's Kickstarter campaign runs from June 7 until July 29. For a full rundown of the pledge levels visit their Kickstarter page.
Media wishing to demo the suitcase or interview TraxPack personnel should contact PR agent, Allison Aitken at (514) 703-4989.