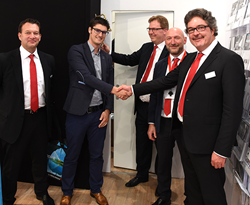 Dries Maerten, Operations Manager Athena Graphics says: "The automation concept presented to us by Glunz & Jensen is very convincing. We consider Glunz & Jensen as being very innovative and professional. We believe that this project will add further value
Ringsted, Denmark (PRWEB UK) 7 June 2016
Belgium-based Athena Graphics NV and Glunz & Jensen A/S have entered into a partnership covering development and delivery of fully automated processing systems for flexographic printing plates used in Athena's prepress operation.
The cooperation will include In-line integration of the newly introduced fully automatic Glunz & Jensen FlexPro processor into the Glunz & Jensen FlexLine system, as well as process data integration into Athena's workflow. At the final stage of the project, Athena will have a fully integrated platemaking workflow, from plate imaging to plate cutting. With the integrated FlexLine system, Athena stand to benefit from higher productivity, reduced waste and more consistent plate quality.
Dries Maerten, Operations Manager Athena Graphics says:
"The automation concept presented to us by Glunz & Jensen is very convincing. We consider Glunz & Jensen as being very innovative and professional. We believe that this project will add further value to our operation and to our customers."
Joachim Spies, Product Manager Glunz & Jensen says:
"Athena Graphics and Glunz & Jensen share a mutual vision for full stack-to-stack workflows in flexo prepress. We look very much forward to transforming this vision into real life, together with Athena Graphics."
About
Athena Graphics is one of the most leading and dynamic prepress companies in Europa, with over 100 employees and establishments in 3 countries: Belgium, France and The Netherlands. We deliver high-quality prepress, printing forms and online services to the entire packaging chain in order to reduce the time-to-market. We achieve this by investigating in people and technology, leading every day to innovation, optimization and automation in the packaging supply chain.