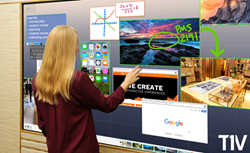 Videoconferencing for ThinkHub is designed to work with the systems organizations already have in place...
Charlotte, NC (PRWEB) June 06, 2016
T1V announces it will introduce ThinkHub's new videoconferencing capabilities at InfoComm16. ThinkHub, the interactive software company's collaboration software as a service, is a powerful collaboration tool that is transforming the way people communicate. In its continued focus on simplifying the process of collaboration, T1V ThinkHub offers a highly visual, engaging tool that collaborators can utilize both in-room and out-of-room.
ThinkHub MultiSite is designed for remote collaboration sessions from ThinkHub device to ThinkHub device. ThinkHub MultiSite offers real-time, remote collaboration sessions and session sharing across the entire organization. Now, ThinkHub MultiSite also features built-in videoconferencing capabilities that enable MultiSite users to collaborate while sharing the same digital Canvas, with the added benefit of video and audio feeds to augment the collaboration experience.
What's more, T1V is excited to offer videoconferencing capabilities through its AirConnect™ App, which enables ThinkHub participants to connect to the ThinkHub Canvas from their iOS, OSX, Windows, Android, or Linux device. Through T1V AirConnect View, users can utilize any meeting application (Skype for Business, WebEx, GoToMeeting, etc…) from their laptop to host a meeting and show the ThinkHub Canvas to meeting participants.
T1V is also integrating popular web meeting applications directly into ThinkHub, starting with Skype for Business, which will be demonstrated at InfoComm16.
Videoconferencing for ThinkHub is designed to work with the systems organizations already have in place. So ThinkHub Videoconferencing is also compatible with all hardware-based videoconferencing equipment, such as Cisco and Polycom.
Experience ThinkHub Videoconferencing at InfoComm16 in T1V Booth N2633. Visit http://www.t1v.com/InfoComm16 to schedule a demo at the show, or contact us at hello(at)t1v.com to learn more.
About T1V
T1V creates interactive touchscreen experiences. Deliberately large in size and incredibly durable, our Interactive Platform includes tables and walls, digital signage, and mobile apps. Our products are powered by patented multitouch, multiuser software that transforms public spaces into more dynamic environments. The T1V team is made up of design, engineering, business and technology minds alike - resulting in unrivaled support to our customers from start to finish.
Based in Charlotte, NC, T1V works with corporate, events and exhibits, entertainment, hospitality, retail, and education markets around the globe. The company is recognized as one of Charlotte's Fast 50 by the Charlotte Business Journal and was named to the 2014 and 2015 Inc. 500 | 5000 by Inc. magazine. Visit http://www.t1v.com to learn more about our products and how we can work with you and your industry.
To see more, visit http://www.t1v.com/showcase/videos.