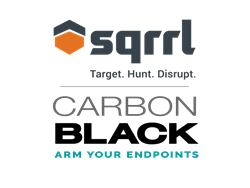 The integrated Sqrrl/Carbon Black solution simply makes sense.
Cambridge, MA (PRWEB) June 07, 2016
Today, Sqrrl announced its partnership with Carbon Black, the leading endpoint security company, to power an integrated threat hunting solution that enables organizations to more effectively and efficiently detect, investigate, and respond to advanced threats.
A video demonstration of the integration can be found here.
"Threat hunting is one of the most important new trends among cybersecurity practitioners," say Sqrrl CEO Mark Terenzoni. "No longer can organizations sit back and wait for threats to come to them. A proactive approach is needed to detect and respond to threats that have evaded other cyber defenses."
The integrated Sqrrl / Carbon Black solution takes rich endpoint data collected from Carbon Black and fuses it with network, identity, and threat intelligence data within Sqrrl's threat hunting platform to provide hunters with a complete picture of threat activity. This data is then combined with Sqrrl's machine learning behavior analytics to identify risky users and entities and present them in threat hunting workflows.
"Enterprises are realizing they cannot be reactive when it comes to cybersecurity, instead they must move quickly to adopt a proactive posture capable of hunting down threats," said Tom Barsi, Senior Vice President, Business Development for Carbon Black. "Tools that provide context and accelerate time to discovery are critical to this transformation. The integrated Sqrrl/Carbon Black solution simply makes sense. It improves detection rates and make it easier for SOC analysts to gain full context of anomalous behavior."
The integrated Sqrrl / Carbon Black solution is available for customer engagements, including demonstrations, proofs of concept, and production deployments. For a more in-depth demonstration of the integration:
1. Join us July 19th for the joint Sqrrl – Carbon Black threat hunting webinar, "Threat Hunting from Network to Endpoint." The webinar focuses on the power of a unified threat hunting platform that fuses network and endpoint data, showcasing our solution and discussing hunting best practices.
2. Swing by booth C180 at Infosec Europe on June 8th! We will be providing a live demonstration of the new integration.
About Sqrrl
Sqrrl is the security analytics company that enables organizations to target, hunt, and disrupt advanced cyber threats. Sqrrl's industry-leading threat detection and response platform unites threat hunting, behavioral analytics, and incident investigation capabilities in an integrated solution. Sqrrl's unique platform approach enables security analysts to discover threats faster and reduces the time and resources required to investigate them.