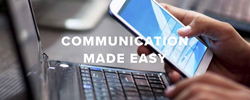 We view near miss and risk situations as leading indicators of where the gaps are within our safety processes. WorkplaceAware helps us identify those gaps, take corrective action, and make our company a safer workplace. Chris Gab - Rehrig Pacific
Parkville, MO (PRWEB) June 08, 2016
Smartphones and tablets with apps are like a third appendage in today's world. "Paper and pencil" reporting methods use forms to prepare and submit reports. For that reason, often times, issues go unreported. Requests for information via email, voicemail or text messages don't get submitted with regularity. Reports that get submitted take a lot of time and effort to organize into a useful format. The WorkplaceAware Report Management System replaces paper and pencil and then produces complete reports you can use.
With the WorkplaceAware mobile app, employees can submit photos and report details to decision makers, instantly. This saves valuable time between reporting and response. Employees can report on safety and security, equipment, plant needs and even supply requests. Reports are geo-tagged based on the location of the picture taken. Management instantly receives organized, detailed information that is not possible using paper reporting methods. Issues get addressed and resolved fast, saving time and money, while making workplaces safer.
There are many reasons safety, near misses and operational issues go unreported. The ease of WorkplaceAware helps companies eliminate barriers to reporting. The crowdsourcing of information results in valuable metrics, immediate awareness, intervention and timely resolution.
Safety officers and business managers access the WorkplaceAware dashboard from any internet browser. They are able to generate PDF or CSV reports that can be filtered by multiple criteria. Reports can be forwarded, escalated or shared with anyone inside or outside the company. The outbound alerts feature lets administrators instantly notify all mobile app users when news and changing conditions warrant.
In 2014, private industry reported nearly three million nonfatal workplace injuries and illnesses according to the Bureau of Labor Statistics. While this number is lower than previous years, the question that remains is how many near misses occurred in the workplace that were not reported. Heinrich's widely accepted accident triangle theory states that for every major injury, there were 29 minor injuries and 300 near misses. Additionally, OSHA estimates that employers pay over $50 billion a year for direct workers' compensation costs. The price tag for "not knowing" can be significant!
"WorkplaceAware eliminates many of the reporting barriers companies must overcome to make workplaces safer and more efficient," said WorkplaceAware CEO Rob Sweeney. "There are reasons employees choose not to report a safety, near miss or operations concern. These include fear of retribution, a desire to avoid red-tape or interrupting work. WorkplaceAware makes it possible for employees to report without having to fill out paper or disturb the work routine. Reports can also be sent anonymously. Our customers see an increase in safety and operations reporting days after implementing WorkplaceAware. The workplace is safer and operates more efficiently. Management has report data that they can now use."
The WorkplaceAware Report Management System was introduced in 2014. WorkplaceAware has become a valuable solution for major corporations and mid-size businesses. An enhanced WorkplaceAware mobile app and web-based dashboard was released in first quarter 2016.
For more information about WorkplaceAware visit: http://www.workplaceaware.com.