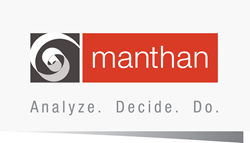 Consumerization of analytics is what we believe will revolutionize the analytics market
Santa Clara, CA (PRWEB) June 07, 2016
Manthan, a global leader in Big Data and analytics solutions for consumer-connect industries, today announced that it has been named Company of the Year – Analytics, by Frost & Sullivan at the 14th Annual ICT (Information & Communication Technology) Awards. The awards were presented in the ceremony held on 2nd June, at the Hyatt Regency in Mumbai.
This award benchmarks against the highest standards in the IT industry, and recognizes the exemplary growth and performance shown by Manthan in the field of Big Data and Analytics.
"For the past couple of years, our focus has been on effecting a shift in how users perceive analytics and how user-driven analytics can deliver real business solutions - effectively, with direct impact on revenues and in real time. Consumerization of analytics is what we believe will revolutionize the analytics market in the next 3-5 years, and Manthan intends to position itself as the global leader in analytics and analytics-driven market applications across industries.", said Atul Jalan, founder and CEO of Manthan.
Manthan brings together deep industry expertise, statistical sciences, Big Data and state of the art analytics technology to provide a full range of packaged advanced analytics products for consumer connect industries. This is the second time in three years that Manthan has been presented with the coveted Company of the Year (Analytics) award.
The Frost & Sullivan India ICT Awards are judged based on a variety of parameters like service/product comprehensiveness, revenue growth, market strategies, product development abilities, competitive advancement skills, technology innovation, new product introductions and dedicated customer focus. An independent panel of elite judges comprising C- Level executives from the media and IT sectors, followed a rigorous measurement-based methodology along with the analyst teams before bestowing the Company of the Year award on Manthan.
Manthan's cloud based analytics solutions available on a SaaS model, provide the fastest ROI in the industry by placing the decision maker at the centre of the design philosophy.
"Our Switch On Analytics approach helps businesses enhance, simplify and speed up decision making with technological innovations that equip every role with actionable insights in the shortest possible time.", added Atul.
---------
About Manthan:
Manthan is the Chief Analytics Officer for consumer industries worldwide. Manthan's portfolio of analytics-enabled business applications, advanced analytics platforms and solutions are architected to help users across industries walk the complete data-to-result path - analyze, take guided decisions and execute these decisions real-time. Sophisticated, yet intuitive analytical capability coupled with the power of big data, mobility and cloud computing, brings users business-ready applications that provide on-demand access and real-time execution - the only path to profit in a contemporary, on-demand and connected economy. Manthan is one of the most awarded analytics innovators among analysts and customers alike .To see how your business can gain from analytics, visit manthan.com.